Mako
Self-propelled Sprayer
Get hooked on the lightweight agility with the Mako – the most compact self-propelled sprayer in the market. Ideal for tall broadleaf, cotton and row crop applications.
Small and agile, the Mako stays on top of the ground, making tight turns with ease. Featuring a 140 inch wheelbase and a narrow track width, the Mako boasts a compact 4.2 metre turning radius.
Its reliable all-mechanical powertrain makes offers plenty of horsepower, a quick response, fuel efficiency and high field speeds.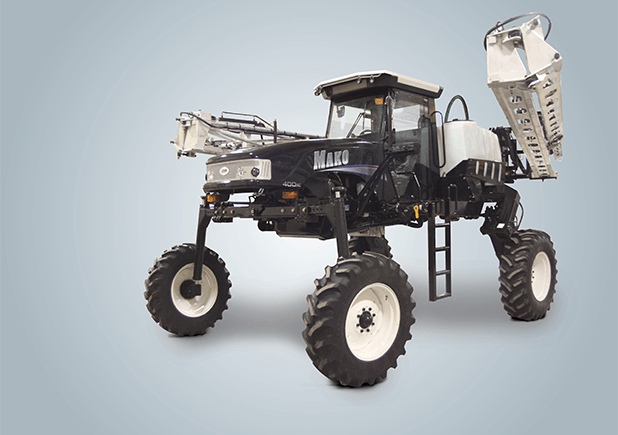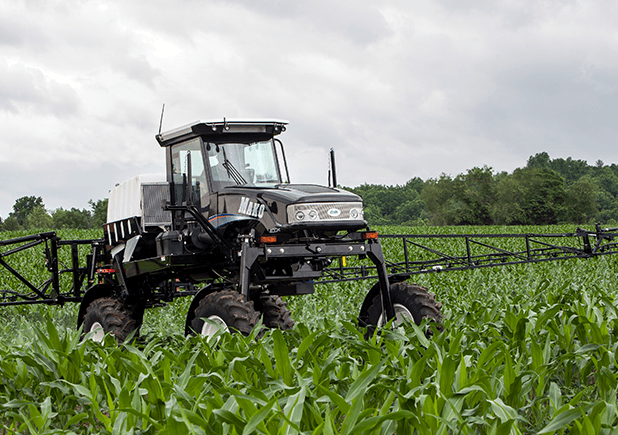 minimal crop damage and soil compaction
The perfect combination of liquid capacity and machine weight to dramatically reduce soil compaction. Due to its lightweight design and equal weight distribution, the Mako performs exceptionally well, even in wet conditions. With its rigid, commercial grade frame and 1500 litre product tank, you'll never compromise productivity either.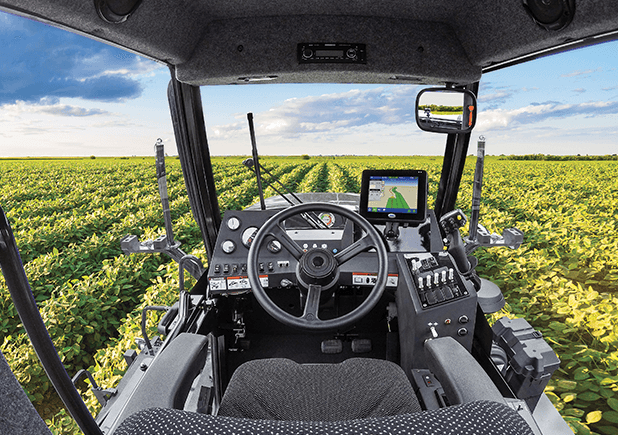 Designed specifically to meet the demanding requirements of agricultural application, the Mako's 130 horsepower Cummins engine is paired with a custom cooling system resulting in a package that has more torque, more power and a better transient response than your typical 130 horsepower engine. Air cooled and turbocharged, the engine package is designed to go hard, even under heavy loads and tough applications.
To top it off, the Croplands Mako's sprayer-specific cab is simple, spacious, and comfortable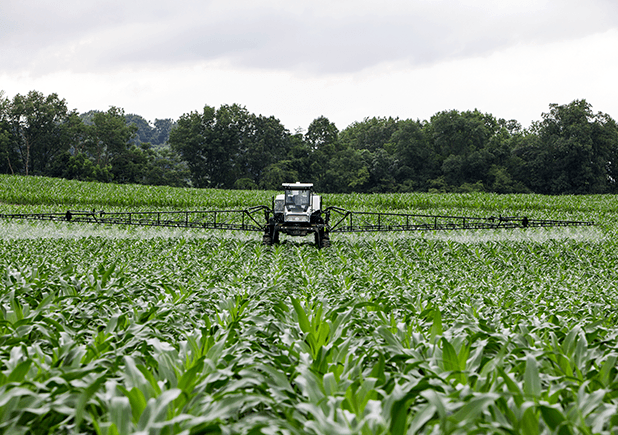 simple enough for first time applicators, yet smart enough for the pros.
1,500 litre product tank
117 cm of clearance
203-274 cm (80-108 in.) adjustable width axles
Fuel efficient mechanical drive train
Tier 3 Cummins engine, 130 hp
Allison 2100 RDS, automatic 5-speed transmission
13.8 ft (4.2 m) turning radius
Mako specifications
engine
Cummins Tier III, 4 cylinder diesel 4.5L
130 hp engine @ 2500 rpm
Fuel/water separator
140 amp alternator
1000 cca single battery
Cruise control
166 L Fuel tank capacity
11 L Engine oil capacity
TRansmission and drive system
Automatic, Allison 2100 RDS transmission
5-speeds forward
Mechanical drive
35 kph max. Transport/road speed
Dana Model 44-IC differential, 4.09:1 reduction
Drive shaft, double telescoping, 203-274 cm (80-108 in.
speed ranges
1st: 7 kph
2nd:12 kph
3rd: 16 kph
4th: 22 kph
5th: 35 kph
Reverse: 5 kph
cab
Curved glass windshield with all glass door
Air suspension seat
Windshield washer
Dual purpose paper/charcoal cab filter
Night and general use interior dome lights
Tilt and telescoping steering with horn
Air conditioning and heat
AM/FM radio with CD player, 50W x 4 speakers, USB, MP3
controller
460 Controller with GPS speed sensor
boom
Hydraulic adjustable boom height: 21-76 in. (53-193 cm) low setting and 37-92 in. (94-234 cm) high setting
Hydraulic boom fold over with cushion cylinders
Hydraulic boom tip lift
60/80 ft (18/24 m) boom, 5 section, 10 in. off centre nozzle spacing, stainless lines and rotary triple nozzle bodies
Inner boom breakaway with shock absorber, auto. reset
Hydraulic breakaway for outer boom section with electric over hydraulic reset
liquid system
1,500 L polyethylene product tank
2 in. (50 mm) diameter quick fill
Engine mounted, belt drive Hypro centrifugal pump with electromagnetic clutch
Manual adjust with electric on/off agitation
50-mesh screen filtration
ISO spray controller
ISO 5-section tip control
Electronically controlled spray manifolds, 5-section
56 litre fresh water tank
12 volt system
chassis
Epoxy primed, urethane finish, rectangular tube steel gusset and plate-reinforced rigid box frame
Independent integral strut and spring front suspension with oscillating front axle
Independent knee action rear suspension with coil sprint
139.9 in. (355 cm) wheelbase
Frame construction: 5 x 3 x .3 in. (13 x 8 x 1 cm) rectangular tube steel
Clearance: 46 in. (117 cm)
Wheelbase: 139.9 in. (355 cm)
Overall length: 245 in. (622 cm)
Overall width: 108 in. (274 cm) top-fold boom tips, 112 in. (285 cm) side-fold boom tips
Overall height: 124 in. (315 cm)
Turning radius: 13.8 ft (4.2 m)
Toolbox
axles
Adjustable tread width, front and rear, 203-274 cm (80-108 in.)
Rear hydraulic axle adjust
5.21/1 rear chaincase final drives
Oil bath lubricated, pre-stretched, endless drive chains
Easy to maintain
Hydraulics
15 litre hydraulic reservoir capacity
Open center hydraulic system
15 L/min engine driven gear pump
tyres, brakes and suspension
Front tyres and wheels: Fluid filled, 320/85R24
Rear tyres and wheels: 12.4R32 ILOS
Individual left and right power disc brakes
Front operated parking brake
Front Suspension: Independent spring suspension with oscillating front axle
Rear Suspension: Independent knee action suspension with coil spring and hydraulic shock
warranty
2 year/2,000 hour Cummins engine warranty
3 year/2,500 hour Allison transmission warranty
2 year/2,000 hour Dana rear warranty
1 year/1,000 hour bumper to bumper warranty
enquire now
| | | |
| --- | --- | --- |
| Mako | Self propelled sprayer | ENQUIRE |