Long-time spot spraying advocate turns to WEED-IT Quadro
02 November 2020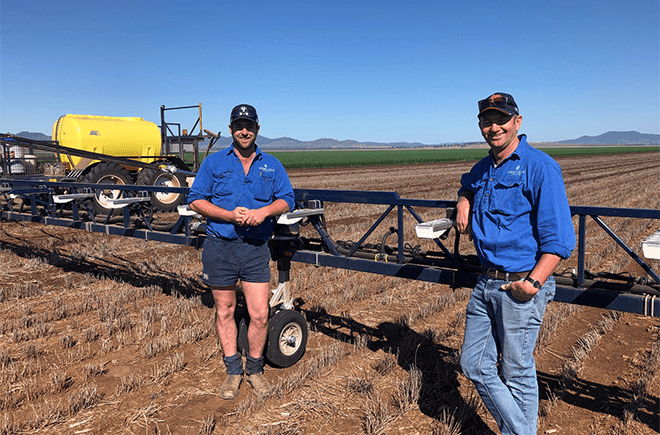 Brothers David and Gordon Brownhill have understood the value of weed-sensing technology since the 1990s.
David says the latest spray technology is an essential tool for no-till broadacre farmers, and the pair has received an immediate financial return from their new trailed WEED-IT Quadro sprayer.
The Brownhill brothers are third generation farmers, who run Merrilong Pastoral Company. The farm on the Liverpool Plains in New South Wales has grown to 10,000 ha.
They run stock on 2000 ha and the rest is for cropping cotton, sorghum (for grain as a summer crop), corn, four types of wheat, barley, chickpeas and faba beans.
Gordon is general manager and David is business manager. They also have a farm manager and nine full time staff. Gordon's son Hugh recently joined the business, becoming the fourth generation of Brownhills to work the land.
David says he first became interested in weed-sensing technology when the then Department of Agriculture was developing a system in Tamworth. He and Gordon bought an early prototype. It was not user-friendly.
However, in 1998, David won a Nuffield Scholarship and used the opportunity to visit California to see how spot-spray technology was being used with cotton.
That led David to form a company in 2001 to import weed-sensing technology on a 24m boom. He then changed tack, and used another version of the technology, until finally this year he bought the WEED-IT Quadro with a 36m boom.
He says the main reason he swapped to WEED-IT was its new blue light system. Earlier brands use red LED lights, but blue LED lights are more accurate at detecting the green of chlorophyll in plants, and they operate just as well at night.
The night operation matters as the Brownhills can spray glyphosate during the day and gramoxone at night, because the latter is more effective at night.
Their best effort has been 780 ha covered in 24 hours. tenorshare 4mekey download
The WEED-IT system is compatible with most boom types and David and Gordon run theirs on a Hayes sprayer, made just over the border in Queensland.
We are super happy. It has been a great investment. The pay back has been crazy. In the first eight weeks we saved $157,000 off the weed bill.

David Brownhill, Merrilong Pastoral Company NSW
That massive savings was because after two years of drought there were minimal weeds – only about four percent cover. This meant they could spray their entire 8000 ha cropping area with the spot-sprayer to hit the hardy survivors, without wasting spray on barren areas.
"The guy running our spraying operation brought a proposal to the board. He did the maths and said we would pay it off in three years. The way it is going, it will be in two. It is one of the few bits of technology that gives you a return to the pocket straight away."
David says integrated pest management (IPM) is stock standard for anyone in the cotton industry and they do practices such as winter and summer rotations and use targeted sprays where possible, which do not harm beneficial insects.
"I believe in science and technology and have no issues with herbicides and insecticides, but the less we can use the better," he says.
Spot spraying is a perfect complement to IPM. It also means they can deal with hard-to-kill weeds by using higher concentrations, without breaking the bank.
The WEED-IT Quadro provides options. It can be specified with two tanks to apply two different chemicals on different rates. Or it can broadacre spray with one chemical while spot spraying with the other. WEED-IT sensors can also be retrofitted to several makes and models of self-propelled sprayers with kits specifically designed for each boom.
For David's operation, he ordered a model with just one 4000-litre tank and only spot sprayers. He does have the option to add another tank later if required.
It is not a huge tank, but then when only spraying four percent of a paddock, you do not use much. It also means little time is wasted filling up.
Lochie, the night driver, fills up at say 6pm, and that tank usually lasts the night.
If he does need to fill up, there is a cage on the front with herbicide. He can fill up with water somewhere on the property, and the herbicide is ingested through the line into the tank. In this way, he is fully self-sufficient through the night.
Weed-detecting sensors on the WEED-IT boom are on 1m spacings. Each sensor controls four nozzles fitted with a high speed 50hz, 6v solenoid. The boom is 1.1m high to prevent shading of weeds and background calibration happens 40,000 times per second so there are no issues with accuracy in different soil conditions.
Crop rotations on the Brownhills' farm see wheat harvested in December, and then 10-11 months fallow before replanting. During that fallow time, paddocks are sprayed on 4-6 week intervals.
David says the WEED-IT can work at about 13 kph, which allows them to cover 36 ha/hour. "The accuracy at 13 kph is sensational."
The Quadro has five sensitivity settings and on Merrilong farms they always run on 1, the most sensitive. The WEED-IT system automatically calibrates as it goes.
How big does a farm have to be to justify this technology? "I could probably justify this on 2000 ha," David says.
At Merrilong they use a 320-hp tractor to tow the Quadro, however David says that is really overkill and they could use 150 hp. The tractor used on the WEED-IT, also has other roles on the farm.
Croplands provides the back-up service for the WEED-IT Quadro.
"There are so many settings, and the guy from Croplands helps us make other choices, like when the nozzles turn off and on. It is an excellent process."