Gibb Bros increase capacity with Bargam Fox
24 JULY 2019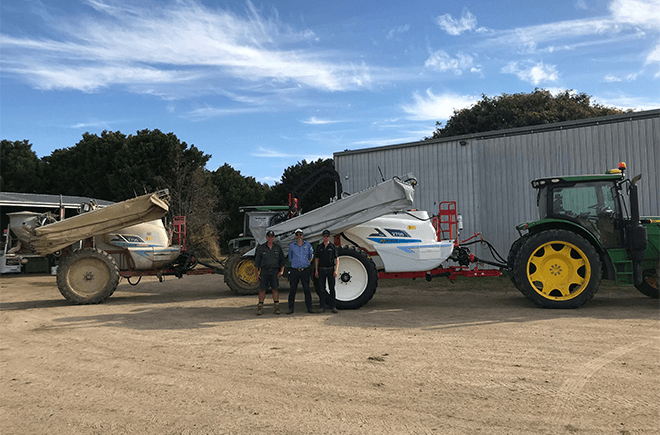 Gibb Bros is a third generation, vegetable farming business based in South East Queensland.
The company farms across several sites, including the fertile Fassifern Valley and the rich plains of the Darling Downs, near Toowoomba.
Following a recent acquisition of additional land, Gibb Bros had the need to add a new sprayer to their fleet. Having purchased a Bargam Fox trailed sprayer in 2012, the team at Gibb Bros elected to purchase another of the same model, taking delivery of a new Bargam Fox 2700 trailed sprayer with 16.5 metre air boom.
Fox trailing sprayers are manufactured in Italy by the Bargam group, one of the premier sprayer manufacturers in Europe, and imported into Australia by Croplands Equipment. Well known for their variable track axle (1.5m – 2.1m) and fully galvanised, side folding hydraulic boom, the Fox is a versatile sprayer for both row and broadacre crop types.
Fitted to the two Gibb Bros sprayers are the Bargam Air Assisted Booms which make it possible to work with 6/8 m/sec strong winds, making the machine less dependent on surrounding weather conditions and significantly minimising spray drift.
These sprayers operate twelve months of the year across a wide variety of crops including lettuces, celery, kale and cabbages, often needing to move from spraying young seedlings to more mature crops within a few hours. As such, air volume and speed adjustment from the cab was a critical requirement. This is accomplished via an optional integrated ARAG control system which controls the fan speed that produces the air to the boom.
Other optional extras included electric over hydraulic in-cab switchbox and a Bravo 180S fully automatic rate controller.