PEGASUS 7000
TRAILED SPRAYER
The Croplands Pegasus range is renowned for exceptional productivity and effortless operation. This hallmark performance is delivered to large-scale farming through the innovative 7000 litre model.
Offering additional versatility and industry-leading capacity, the Pegasus 7000 features an integrated 1500 litre freshwater tank to thoroughly flush the boom system and main tank. The 1500 litre tank can also be used to hold extra water to finish off small spray areas.
Proudly built in our manufacturing facility in South Australia, Pegasus sprayers are as highly durable as they are easy to operate with one master panel for all liquid functions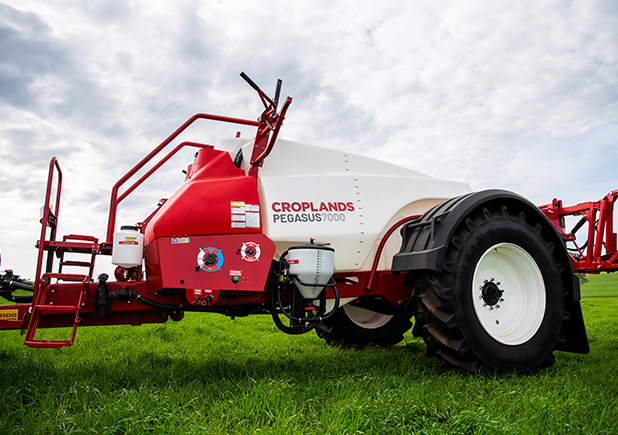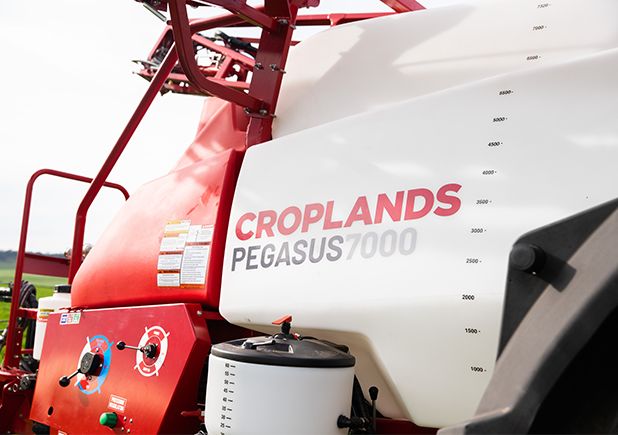 7000 LITRE MAIN TANK
7000 litre polyethylene tank fitted with hinged lid and controlled overflow plumbing, filling strainer, top fill and fully draining sump. Comes standard with dual agitators, direct chemical induction, tankrinsing facility and drain outlet. UV and chemical resistant.
Tank shape helps control foaming issues
The self filling 2 in. centrifugal pump is hydraulically driven. The directional fill valve is used to fill the main 7000 litre tank and the 1500 litre tank
1500 LITRE FLUSH TANK
1500 litre polyethylene tank, fitted with dual lids and controlled overflow plumbing
Top fill and fully draining sump
Red tank for reduced algae issues. UV and chemical resistant
Easy to see sight gauge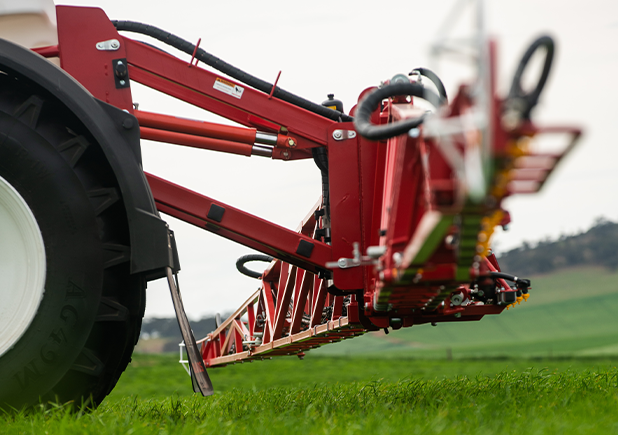 BOOM
33 and 36 metre, fully hydraulic fold boom – stronger and designed for smoother, more accurate spraying and long life.
Hydraulic accumulator boom suspension system protects the boom and improves the boom ride
Parallelogram 2000mm hydraulic lift, adjustable boom breakaways with self-returning boom ends. Boom hydraulically side folds and locks for transport
Self-levelling
Protected nozzle bodies and skids standard. Wing tip protection standard on all booms
Chemical and corrosion resistant finish
Manual boom flushing taps fitted standard
In-line boom filters fitted standard
Stainless steel boom lines standard
Optional hydraulic wing lift with electric/hydraulic operation with in-cab control panel available on all booms
PUMP AND BOOM PRIME/RECIRCULATION
Hydraulically driven centrifugal pump is a large capacity pump for high speed self filling and fast response to the demands for auto section controls. The boom prime/recirculation system improves efficiency in boom cleaning and decontamination and eliminates the need to prime booms on the fenceline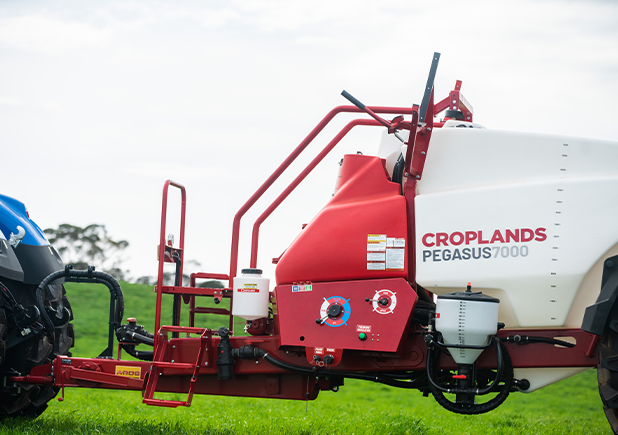 CHASSIS
Heavy duty fabricated chassis with easy access walk over platform designed for maximum accessibility and safety
Easy access to main tank lid
Fitted standard with 710/70R x 42 in. single wheels and tyres
Standard axle is fixed track 3.0 metre axle with airbag suspension and automatic ride height valve
Fully supported polyethylene mudguards and mudflaps to contain dust or mud-splash
Heavy duty adjustable draw bar with air bag suspension and automatic ride height valve
Drum rack on right hand side below the flush tank is standard
CHEMICAL HANDLING
60 litre Chem-e-Flush hopper with drop down leg
Optional integrated suction probe transports chemical directly into the main tank, without putting neat chemical through the pump
Optional AgRunner 12 volt chemical transfer pump with micromatic drum coupling delivers chemical to the hopper for measuring
Separate 30 litre fresh water/hand washing tank fitted for operator safety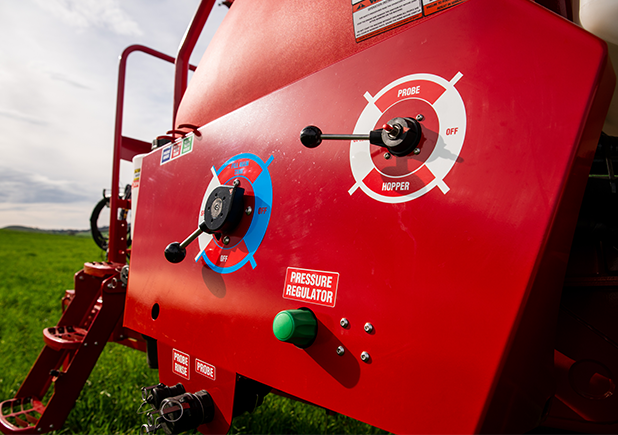 FILL AND FILTRATION
2 in. self filling pump delivers water to the control panel rotary valve, filling main tank or flush tank.
Multiple filtration points:
Basket 18 mesh (main tank only)
2 x filling 32 mesh
2 x pressure 80 mesh
CONTROLS
Easy to use main control panel. Hinged for easy access to plumbing
Electric compressor with large air reservoir for airbag suspension to main axle and drawbar
BA7000 automatic sprayer controller for increased spraying accuracy. Electric motorised valves with 1 in. servo, flowmeter and dump valve. 5-section standard.
NOZZLES
Agrotop AirMix® low pressure air-induction nozzles, 110° #02 fitted as standard. Standard boom is 500mm nozzle spacing.
learn more
Check out the Croplands Broadacre Spray Range for more information.
ENQUIRE NOW
| | | |
| --- | --- | --- |
| Pegasus 7000 | 7000L broadacre trailing sprayer | ENQUIRE |