Quantum Orchard Tower
fan sprayer
Unbeatable canopy coverage in tall tree crops.
Equipped with the new QM-420 fan with dual spray ring, the Quantum 420 Orchard Tower is our latest sprayer. Available in 8-head configuration, it provides superior spray coverage in tree
crops up to five metres in height.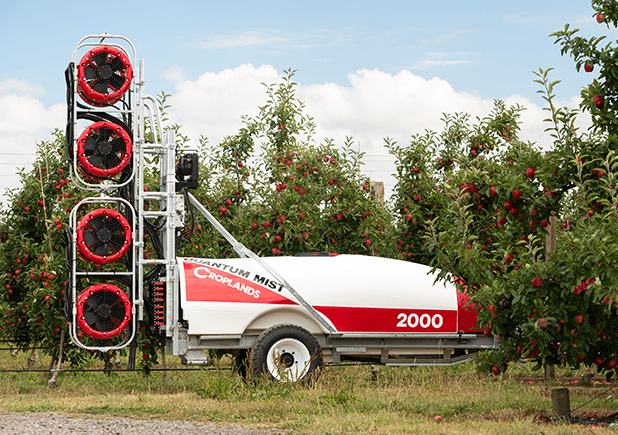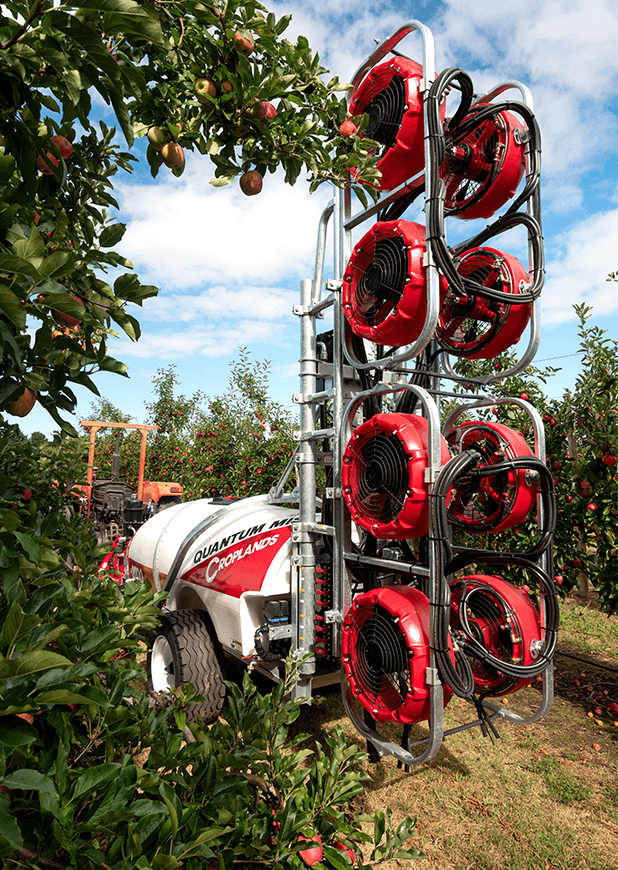 fans
Producing high-volume, turbulent and directional air, Quantum axial fans are designed to deliver maximum spray coverage potential while allowing for faster travel speeds and energy savings compared to traditional air-blast technology.
Fitted with 8 individual QM-420 fan, hydraulically driven from tractor hydraulics or self-contained oil supply (optional Micro Power Pack), deliver turbulent, high-volume air for optimum canopy penetration and coverage.
New optional upwind/downwind compensation allows you to control individual left/right fan speeds from the cab to improve coverage in exposed conditions and minimise off-target spray.
tower
New fixed tower specifically designed for orchard crops. Robust design with manual width adjustments and simple set up for precise fan positioning to provide excellent spray coverage in medium-sized tree crops up to 5 metres in height.
micro power pack
Exclusive to Croplands sprayers is the Micro Power Pack fully enclosed oil supply system which drives all fans with less reliance on tractor hydraulics.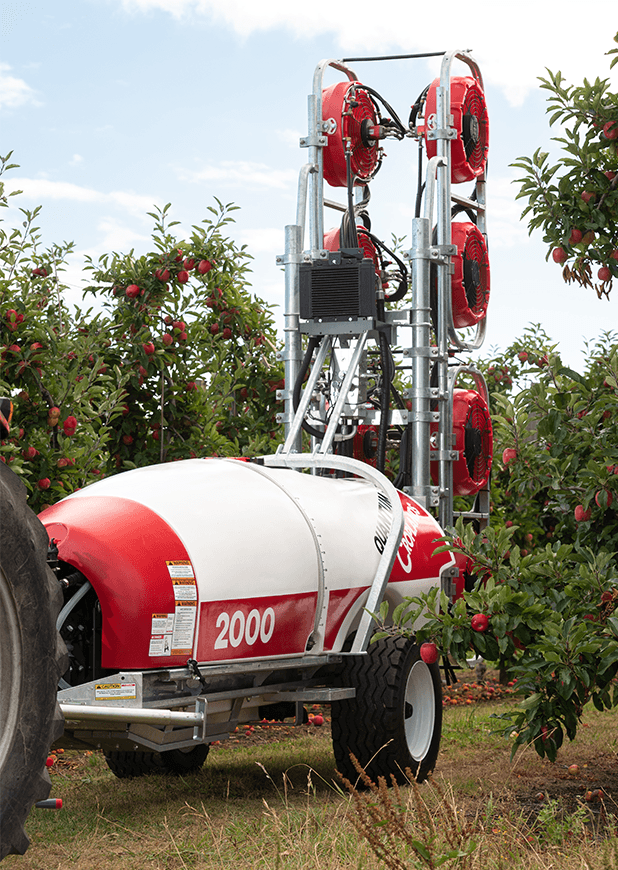 pump
AR-185 LFP positive-displacement pump standard. Higher volume, brass-pump option.
controls
HV-4000 auto-rate controller as standard.
nozzles
Ceramic cone-jet nozzles from ALBUZ are precision polished to ensure perfect sealing, giving precise flow rate and excellent resistance to chemicals and wear. Ten nozzles per QM-420 fan, available in 80, 60 or 40-degree options.
tank
High-impact, UV-stabilised polyethylene tanks fitted with separate flushing and freshwater tanks. Available in 3000 XL, 2200 XL and 2000 Slimline. Slimline model only 1400mm overall width.
chassis/axle
Hot-dipped full-length chassis with single step. Self-steer draw bar standard. Fixed single axles on XL models, width adjustable on Slimline model. Optional tandem axles available for compatible tank models.
LEARN MORE
Browse the Croplands Tree Crop Spray guide for more details.
ENQUIRE NOW
| | | |
| --- | --- | --- |
| Quantum Orchard Tower | Fan sprayer | ENQUIRE |