Top Notch Large Crop Sprayer Advice
17 OCTOBER 2019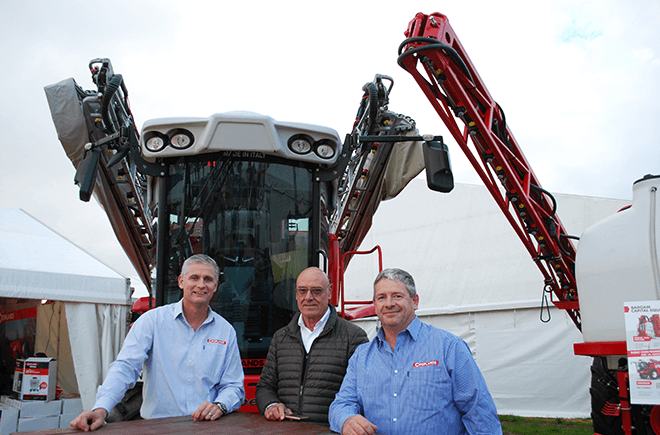 Croplands is pleased to announce the appointment of a self-propelled and large crop sprayer specialist to support New Zealand farmers and contractors.
Andy Mawley previously ran a spray contracting business in the Hawke's Bay for 20 years. He is now teaming up with the Croplands sales team to offer advice and support to dealers and end users.
A crucial part of Andy's role is to find the exact match of operator and machine. He will visit contractors and growers around New Zealand to get an understanding of their businesses and pair them with the exact model and specifications they require.
Croplands New Zealand regional manager Rob Marshall says Croplands has been manufacturing and supplying spray equipment in New Zealand farmers for more than 47 years. Until now it has not had someone in the role Andy is taking on.
"Andy's new role is vital for a company that stakes its reputation as a spray application specialist," Rob says.
"Our key suppliers – Rogator and Bargam – offer a number of different models and countless options. Having someone like Andy in our team, who can draw on many years of personal experience owning and operating these machines, can provide that extra layer of knowledge to ensure we are quoting for exactly what our clients need.
"There is ever increasing choice in this growing market, and we are striving to deliver a level of support that will give farmers and contractors confidence in dealing with us."
Andy says he keeps hearing stories about people who have purchased high value spray equipment only to have it dropped off without adequate operator training or support.
"We want to lead the industry in this area," he says. "My role is not only to help our customers through the sales process, but more importantly to help them set up their machines correctly, train operators, and provide on-going support to the end users and to the Croplands dealers," Andy says.
This alone will be a huge benefit, however the service goes deeper. Andy will help ensure the absolutely best spray job possible is coming out of the machine. He can talk about chemicals, rates of application, timings and nozzles.
"Maybe I will see something they are doing and have suggestions on how they can improve their spray outcomes. Maybe maintenance or sprayer hygiene has been issues in the past and I could help farmers and contractors get good systems in place so they can be more efficient and get the best possible return on their significant investment."
Rob says when they first conceived of this role it made so much sense.
"Two of Croplands' key philosophies are to put the customer's needs in the centre of all that we do and to provide innovative application products. Andy helps us deliver on both of these fronts.
"He has operated our Bargam self-propelled sprayers for 15 years, so he is not only familiar with our products, he is also in tune with the spray contractor market. He really understands how contractors operate and what their specific requirements and challenges are."
Rob says tying together Andy's knowledge of sprayers and agronomy with his experiences as a contractor will offer a high level of support to all Croplands customers and dealers.
Regular contact with the Nufarm New Zealand team will also ensure that Andy is kept up to date on the latest research and products.
Croplands values feedback from clients, and part of Andy's role is to maintain relationships with clients and ensure their suggestions shape future models.