Cropliner XV
air-blast sprayer
The perfect solution for larger scale tree crop orchards and operations.
Cropliner XV offers increased tank capacity and pump combinations on a heavy-duty chassis frame, paired with industry-leading 1060 Fieni DSV fan.
It takes air-blast sprayer efficiency to a whole new level.
Ideal for large tree crops, citrus, avocados and nuts.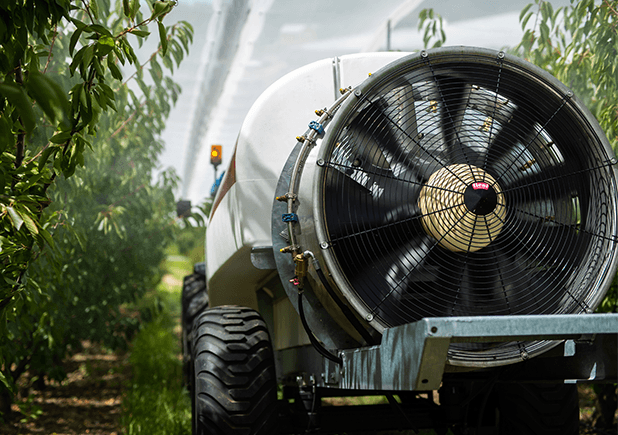 fan
Highly efficient FIENI 1060 DSV fan designed to penetrate tall and dense tree crops. Delivers a maximum air output of 108,618m3 per hour for high-performance spray coverage.
pump
High Pressure AR BHS-200, 4-diaphragm brass pump as standard. Optional IDS-260, 6 x diaphragm brass pump for higher application rates.
For pump specifications, see here.
controls
Electric controls. Two-section (left and right) with pressure adjustment from the tractor seat.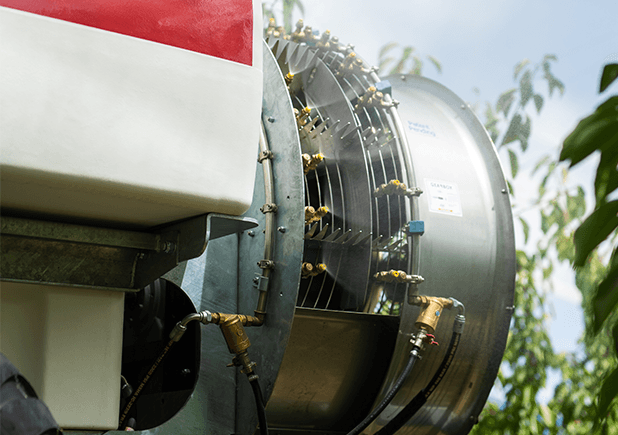 nozzles
Brass roll-over nozzle bodies fitted with 1 set (30) stainless steel disc and brass cores and 1 set (30) ALBUZ ceramic hollow cone nozzles to allow a greater choice of application rates. Double brass roll-over nozzle bodies optional.
tank
High impact, UV-stabilised polyethylene 5000L tank fitted with external flushing system and separate 10-litre fresh water tank.
chassis/axle
The Cropliner XV heavy-duty chassis incorporates rear leaf guard and protection plate. Single suspension axle standard with tandem axle optional.
power required
Approx. 105 engine HP for operation in normal, flat conditions.
LEARN MORE
Browse the Croplands Tree Crop Spray guide for more details.
ENQUIRE NOW
| | | |
| --- | --- | --- |
| Cropliner XV | Air-blast sprayer | ENQUIRE |