croplands broadacre range 2021
29 July 2021
Croplands has been building sprayers for nearly half a century. In that time, our range has continually evolved to meet the changing needs of Australian growers and spray contractors alike.
This year is no different, with a new and improved boom prime/recirculation/flush system now available on Croplands Pegasus Broadacre Trailed Sprayers.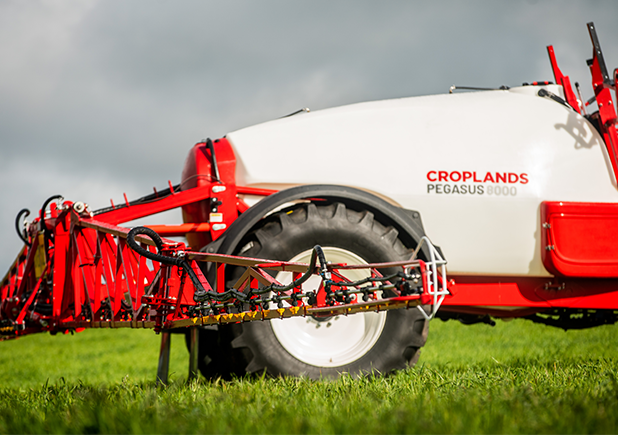 Boom prime/recirculation/flush
As a subsidiary of crop protection company Nufarm, Croplands has an in-depth understanding of the importance of effective and efficient chemical application.
"With input and labour costs ever-increasing, it is more important than ever for growers and sprayer operators to minimise product waste and maximise productivity," says Steve Norton, Croplands Portfolio Manager.
"Croplands' new boom prime, recirculation and flush system is designed to aid agitation and ensure the boom is fully primed with fresh chemical from the very first headland spray increasing sprayer efficiency and productivity whilst also reducing product wastage and minimising environmental impact."
The new system recirculates fluid from the outside of the boom towards the centre within minutes, ensuring the tank mix is correct from the very first spray.
Flushing booms is also safe and efficient with the system reverse flushing liquid through the boom section valves, from the outside of the boom and back to the centre, returning product to the tank.
The system is activated via the master switch in the tractor cab making it safe and efficient for the operator.
"Taking learnings from leading global manufacturers of self-propelled sprayers, we have been able to develop a system that is both an efficient and cost-effective solution for all broadacre farmers"
The system is standard on Croplands Pegasus 8000 and 7000-litre models and available as an option on the 6000 and 5000-litre models.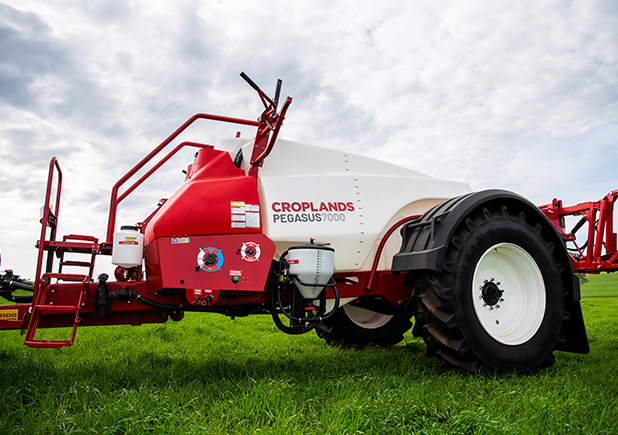 Pegasus: Exceptional productivity
Croplands Pegasus trailed sprayers are renowned for their exceptional productivity and effortless operation. Engineered with the latest technology, Pegasus sprayers set the standard for reliability and efficiency – season after season.
The largest model in the Pegasus range features an 8000-litre main tank. It is designed for large scale farming, with boom sizes of 33m and 36m.
The Pegasus 7000 offers additional versatility with an integrated 1500-litre storage/freshwater tank in addition to the 7000-litre main tank. Boom sizes for this model are 33m and 36m.
Other models in the Pegasus range have 5000- and 6000-litre tanks, and boom sizes of 24-36m.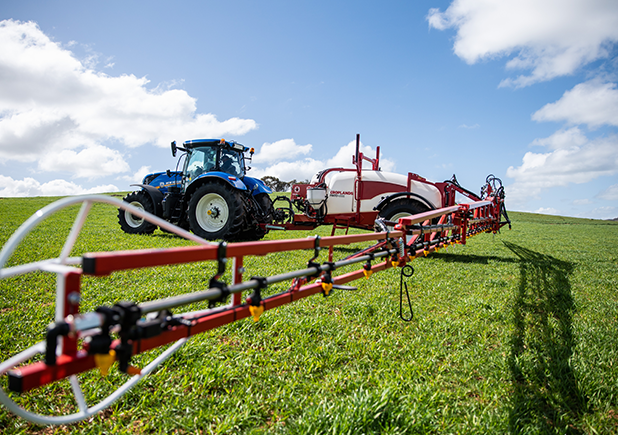 Pinto: Simplicity and functionality
For those operators looking for a smaller trailed sprayer, Croplands Pinto sprayers offer simplicity, functionality and durability in a compact design. Boasting a robust chassis, superior boom stability and straightforward operating systems, Pintos are ideal for farmers and contractors alike.
There are two options in the Pinto range. The Pinto 4000 has a 4000-litre tank and 18m-24m boom while the Pinto 3000 has a 3000-litre tank and 16m-24m boom.
Along with Croplands' rugged chassis and hitch, Pinto trailed sprayers have an efficient 160 litre/minute diaphragm pump. Other features are hydraulic accumulator boom suspension, and big 30- or 42-inch wheels fitted to a heavy-duty axle with trailing arm rubber mount suspension.
View 2021 Croplands Broadacre Trailed Spray Range
EXPLORE CROPLANDS BROADACRE TRAILED SPRAYERS