STARA IMPERADOR
Self-propelled sprayers
Introducing the industry's only mid mount boom sprayer allowing 50/50 weight distribution.
Elevate your operation with the Stara Imperador 4000 series.
Designed and manufactured in Brazil and featuring the world's only centrally mounted boom, the Imperador 4000 delivers the ultimate in row crop spraying accuracy and efficiency.
Now available in Australia.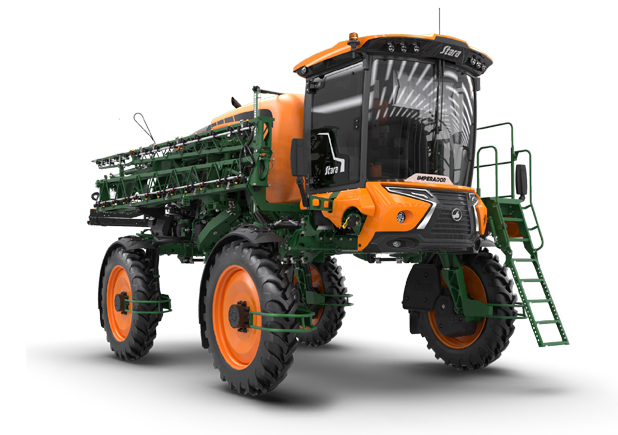 The best of spraying technology.
Now available in Australia.
Designed by Brazils largest agricultural machinery manufacturer and featuring the world's only centrally mounted boom, the Imperador 4000 delivers the ultimate in row crop spraying accuracy and efficiency.
• 4000-litre main tank
• 36-metre mid-mount boom
• 50/50 weight distribution
• 3-metre wheel track
• 1.6m genuine underframe clearance. 2m option
• Four wheel steer standard
• Continuous recirculation and tiered booms standard
Proudly distributed and supported by Croplands – the team with the experience to provide unparalleled service and ongoing technical support.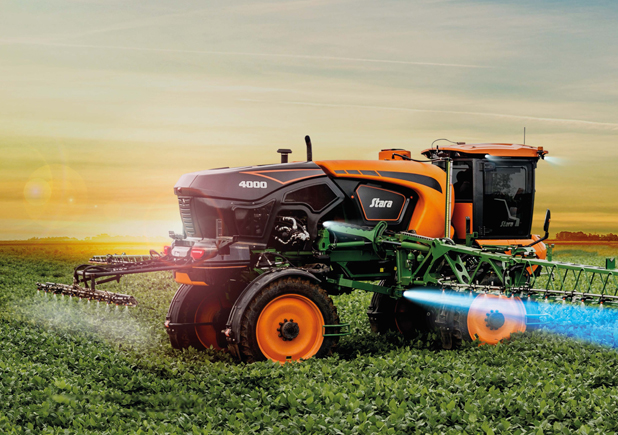 innovation, evolution, and insightful solutions
With Stara's distinctive look and styling, the Stara Imperador 4000 Series self-propelled sprayers stand out due to their high application precision ensured by central booms.
In addition to technologies such as the Continuous Recirculating System, Nozzle-by-Nozzle Control System, Twin Row Spraying System, and Smart 4-Wheel-Steering System guarantee higher accuracy and significant savings.
Imperador 4000 are equipped with an Up & Down – Hydraulic Lift System, a feature that allows for the highest application height – 3 meters, and the highest ground clearance on the market – 2 meters.
General Features
THE ONLY MID MOUNT BOOM IN THE WORLD
Boom
The Imperador line is the only one in the world with central booms. It ensures more stability during applications and guarantees 58% more of the chemical solution on target*. The total boom length is 30m or 36m.
Engine
Cummins electronic engine 6.7-295 cv with a turbocharger. In addition to providing considerable savings and longer life, the engine emits low pollutants, causes fewer vibrations, and generates lower noise.
Blue Beam System*
This lighting allows wide visibility during nighttime applications.
* Optimal feature.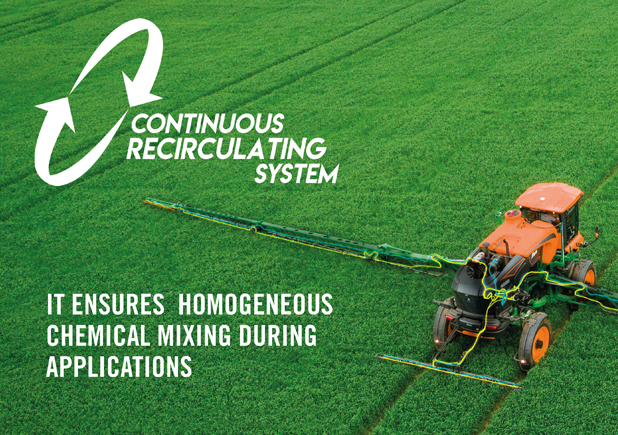 Continuous Recirculating System*
This exclusive system keeps the chemical solution constantly moving inside the tank and piping system. What it provides:
Homogeneity and the exact chemical concentration during applications;
Cleaner spraying system, without residues from previous applications;
Longer components durability.
*Nozzle-by-Nozzle Control System feature
Optimised Hydraulic System
It identifies the amount of oil required to carry out different operations, especially the spray pump flow. It provides gains of an average of 8 cv. The fuel economy is up to 2.5%.
Mechanical Solution Mixer
In addition to the hydraulic solution agitator, the machine is also equipped with a propeller, which guarantees better solution homogeneity for high-quality applications.
Automatic Section Control
Shuts off the spray nozzle automatically when the Topper 5500 controller identifies an area where the chemical has already been applied, preventing overlap and ensuring savings on chemicals.
*Optional feature.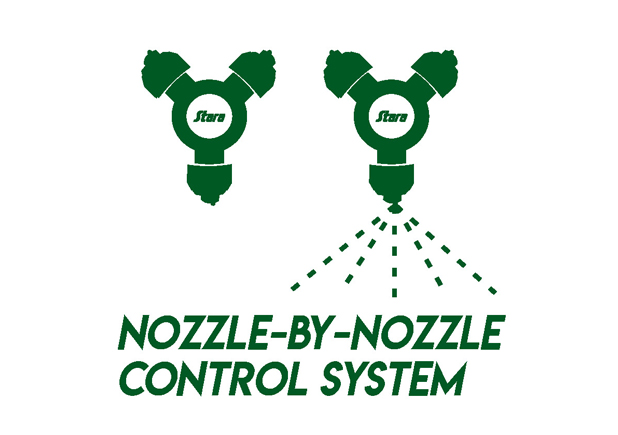 Stara Smart Transmission System
With a Rexroth hydro-electronic transmission 4×4, information is displayed on Topper 5500, and diagnostics of components is in real-time.
Ground Clearance
The Imperador 4000 has an impressive 1.6m of standard clearance and an option of 2.0m
Rigid Chassis
Greater stability and less vibration result in optimum efficiency and greater comfort.
Chemical Solution Tank
A capacity of 4000L for Imperador 4000. Its exclusive design works as wave breakers.
Clean Water Tank
400L capacity
Weight Distribution
Boom stability is achieved thanks to the machine weight distribution – 50% on the back and 50% on the front.
Technology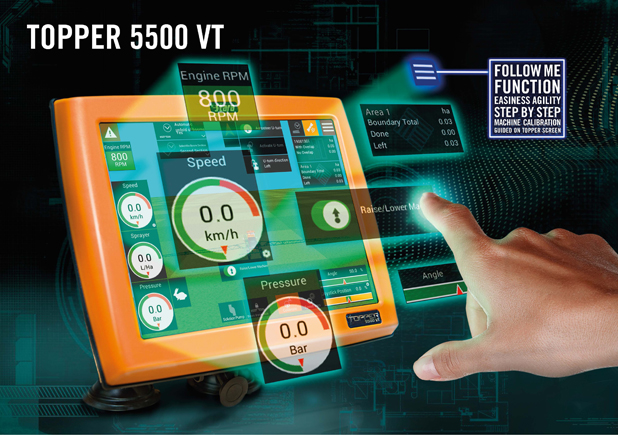 Topper 5500 VT
The complete controller for Precision Agriculture, designed and manufactured by Stara. Its touch screen provides efficiency and more interactivity between the machine and the operator.
TD3 Auto Steering
A robust and electro-hydraulic system that ensures shorter response time for operations by using the auto steering. As a result, it reduces failures and overlaps. Additionally, it reduces crop damage and allows for the following machine traffic control for operations.
Conecta
It is a remote access service that connects you, in real-time, to the After-Sales technician in the Stara factory. The connection is established through Topper 5500, which ensures fast and assertive support.
Whenever you need it, just connect it! An agile and at no cost after-sales available straight to your cabin.
Signal Correction*
It adds the best experience in signal correction, ensuring higher precision in crop field operations. It is recommended for auto steering operations that require path following. It delivers the precision of 2.5 cm**, considerably reducing crop damage losses and overlap. As a consequence, it provides a higher operational yield.
* Optimal feature
** There is no need for a base station to repeat the signal. Precision may vary according to the receptor capacity and weather conditions.
Weather Condition Sensor
The Weather Condition Sensors provide temperature and humidity functions, which boost the application efficiency of the Imperador machine.
Additionally, it has as optional features, wind speed and wind direction functions.
Telemetria Stara
The farm in the palm of your hand.
Through this system, you can manage your operations in the crop field in real-time. Any device that has Internet access will provide you with.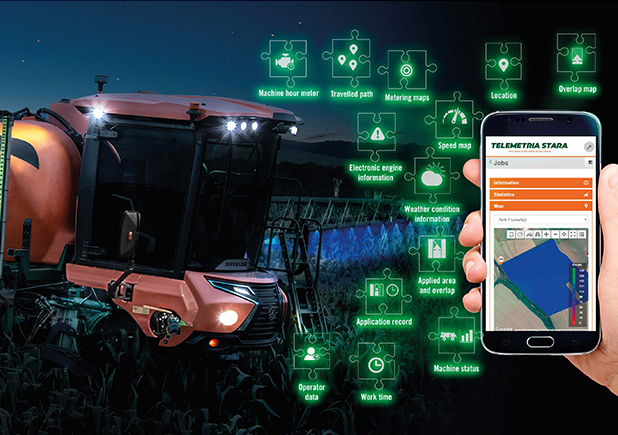 Stara Spraying App
The Stara Spraying App allows you to check the savings Imperador can provide your farm with.
Syncro*
Data transmission system via radio. It allows synchronized communication between the machines and provides better planning and faster crop field operations avoiding overlaps and saving fertilizers.
*Optional feature.
Technical Specifications
IMPERADOR 4000
| | |
| --- | --- |
| Weight | 12120 kg and 12770 kg when equipped with Up & Down – Hydraulic Lift System |
| Length | 8.7 m |
| Booms | 30 or 36 m |
| Width (folded booms) | 3.2 m |
| Height | 4 m and 4.4 m when equipped with Up & Down – Hydraulic Lift System |
| Distance between axles | 4 m |
| Wheel tread width extending | From 2.9 to 3.5 m |
| Ground clearance | 1.6 and 2 m when equipped with Up & Down – Hydraulic Lift System |
| Chemical Solution Tank | 4000L |
| Clean water tank | 400L |
| Product incorporator and rinse tank | 35L |
| Trijet nozzle holder | 25 cm spacing |
| Fuel tank | 340L |
| Spray pump | Stainless steel – 803L/min |
| Tires | 380/90 R46 |
| Engine | Cummins electronic engine 6.7 – 295 cv with turbo charger |
| Controller | Topper 5500 VT |
| Maximum application height | 2.6 to 3 m with Up & Down – Hydraulic Lift System |
| Agitation system | By solution transfer, hydraulic agitator and mechanical mixer with propeller |
| Optional features | Up & Down – Hydraulic Lift System Nozzle-by-Nozzle Control System Twin Row Spraying System Smart 4-Wheel-Steering System Blue Beam Rear-view camera Self-supply pump Signal correction |
see the stara imperador in action
LEARN MORE
Check out the Stara Imperador buyers guide for more information and machine specifications.
WHERE IT ALL BEGAN
CONSTANT EVOLUTION SINCE 1960
ENQUIRE NOW
| | | |
| --- | --- | --- |
| Stara Imperador | Self-propelled sprayer | ENQUIRE |