Croplands acquires Sonic Boomsprays
08 November 2022
Croplands Equipment is strengthening its manufacturing footprint through the acquisition of Western Australian owned and operated sprayer manufacturer Sonic Boomsprays.
The acquisition of Sonic follows the expansion of Croplands' Adelaide manufacturing site, announced earlier this year, and will deliver additional capacity and operating efficiencies to meet the needs of growers across Australia.
Sonic was established by Max and Lynette Hebbermann in 1995 with an aim to produce premium quality spraying equipment for the broadacre spraying industry. The company specialises in sprayers fitted with cable-suspended hydraulic booms.
Croplands General Manager Sean Mulvaney said Croplands and Sonic have built a strong relationship over the past four years, having collaborated on the development and commercialisation of the award-winning WEED-IT Sonic sprayer range.

"We see Sonic as a perfect fit for Croplands as the companies share many values including quality, integrity, resourcefulness and an ongoing industry commitment to produce spraying solutions that deliver efficiency and long-term sustainability for growers," he said.
"Croplands also started as a family business and while we've grown a lot over 50 years, we are still guided by the same strong family values, driven by integrity and a respect for the challenges faced by our customers."
"The acquisition of Sonic will increase Croplands' capacity to bring WEED-IT equipped sprayers to market and also accelerate market access for the wider Sonic product range through Croplands' extensive sales, distribution and service network."
"Sonic has been an important contributor to the Narembeen shire. Our intent is to continue expanding the operation to provide additional employment opportunities for the local community."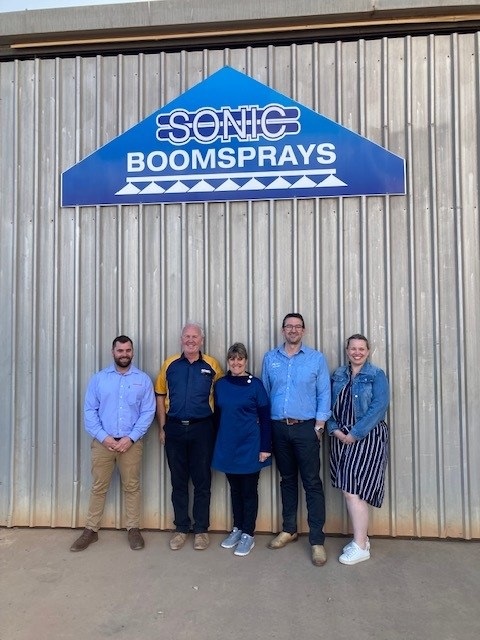 Mr and Mrs Hebbermann will be stepping away from the business, however their children Shanon and Kandi will remain, as will all other Sonic staff.
Settlement will be completed in late November and the business will continue to operate out of the Sonic factory at Narembeen, WA.
We are incredibly excited and confident in this acquisition and the positive impact it will have on the Croplands business as a whole.

Croplands Equipment General Manager, Sean Mulvaney
Since its inception in 1972, Croplands has grown to become one of the most popular sprayer brands on the market, servicing the broadacre, horticulture, viticulture, tree crop, compact and home garden sectors.
Croplands has been owned by Nufarm since 1988 but continues to be guided by the strong family values that marked its beginning in 1972 with Miles Deck and the original Cropliner sprayer.
The backing of Nufarm enables Croplands to support its customers from machinery and equipment right through to application in the field.