Quantum Smart Spray brings speed and smarts to SA vineyards
21 October 2021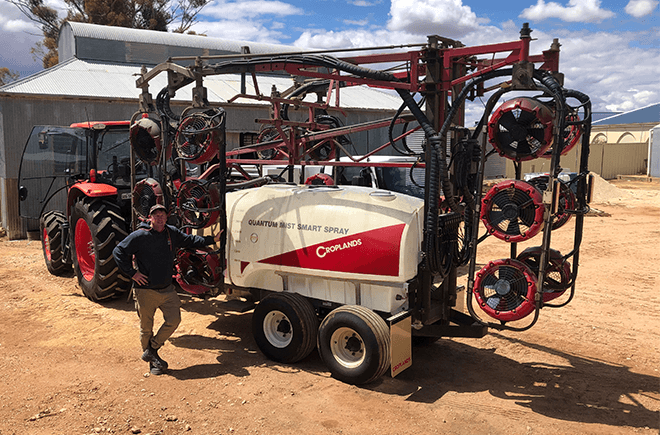 Brothers Dave, Chris and Steve are the guys behind Liebich Family Vineyards, which owns vineyards along the Murray River around Cadell and Taylorville in South Australia.
Their eight vineyards produce 14 different varieties of wine grapes.
The brothers bought their first Quantum Mist vineyard sprayer 10 years ago. They updated it five years later, and then, in 2020, they purchased their first Quantum Mist Smart Spray.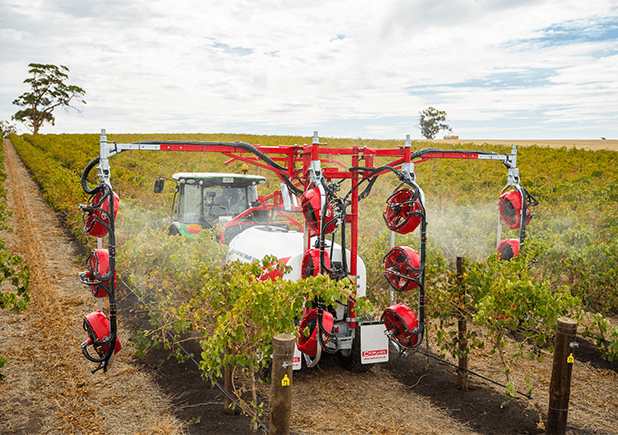 Quantum Mist Smart Spray vineyard sprayers are available in two or three-row options and the Liebich family chose a three-row version.
The Smart Spray has a 4000-litre tank and a new heavy duty boom design for multi-row spraying. Each dropper arm on the boom is fitted with three hydraulically-driven QM-420 fans.
Specifically designed for sprawl and vigorous canopies, three fans per row achieve comprehensive canopy penetration and industry-leading coverage.
New row width boom sensors ensure the boom and fan frames are precisely positioned in the row. Each QM-420 fan is fitted with dual spray rings with five nozzles fitted on each ring. This gives a total of 10 nozzles for maximum spray rate flexibility.
Although most row widths across the Liebich operation are 3.35m, the new boom can be set from 2.5-3.6m by re-setting the in-cab Fusion controller. Steve Liebich says some of the vineyards are on single wires.
We can direct the fans to the single wire and turn off the fans we don't need. This minimises waste and directs all the spray to where it is needed in the canopy.

Steve Liebich, Liebich Family Vineyards SA
With the new Fusion controller, Steve can perform all required adjustments from the cab including rate, row width, fan speeds and boom height giving him total control from the tractor seat.
"For example, if we are going from small canopies to large canopies, we can increase the rate at the push of a button," he says.
By simply changing from Tier 1, 2 or 3 on the Fusion controller the sprayer operator can spray a low, medium or higher rate using the new touch screen controller.
"It's quite handy. Some grape varieties are more prone to powdery mildew, and we can just hit them harder without changing nozzles."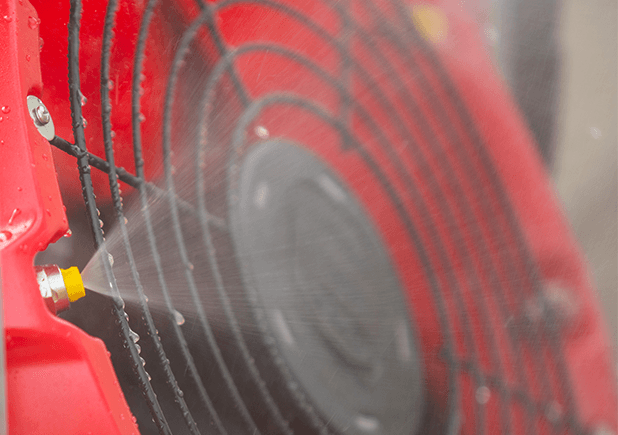 Generally the vines are sprayed at least every 14 days, although in some seasons it is more often.
By moving up to a three-row Quantum Mist sprayer, they can now cover a vineyard quicker. Steve says by using less diesel, they are more environmentally friendly.
"The speed and efficiency of our new Quantum Mist Smart Spray allows us to cover the ground quicker, knowing coverage hasn't been compromised," Steve says.
Quantum Mist Smart Sprays have upwind and downwind compensation. This new feature allows the left and right facing fans on the sprayer to operate at different speeds. This is great for combatting cross winds and minimising spray drift.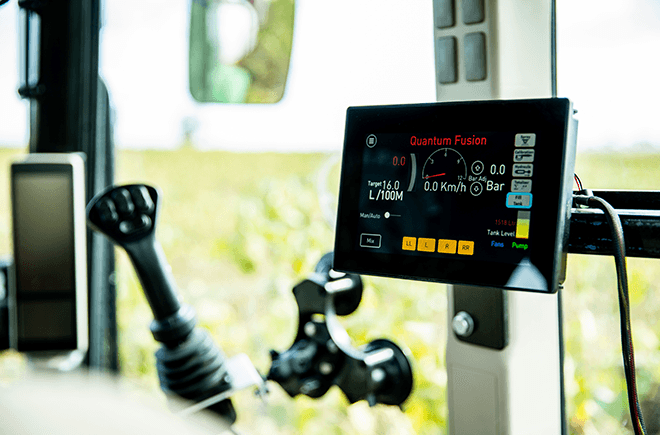 The new Fusion controller system uses a full colour touchscreen and integrated joystick control.
"We like the adaptability and ease of operation. It is easy to drive, so operators have less fatigue, especially when they spray at night."
Working speeds with the Quantum Mist vary depending on the grape variety and the type of canopy. It can be up to 10 kph if rain is threatening and they need to get on with it. Usually they work at a slower speed, and with full season canopies this could be as slow at 5-6kph.
Dealer Stuart McKay from McKay's Auto and Ag Centre in Waikerie, SA helped set up the family's Quantum Mist Smart Spray and he has given great support service.
McKay's Auto Centre stocks most parts, and the Croplands factory in Adelaide is only 90 minutes away if anything further is required.
Steve says the Smart Spray was only released last year, but it has already attracted interest from neighbours.
I have had other growers ask me how it's going. We must be happy as we are buying another one. We will have two operating this year. We like to keep on top of the new technology.