PEGASUS 5000 | 6000
TRAILED SPRAYER
Built with a highly resilient chassis, large, rolling radius single wheels and heavy-duty booms, the Pegasus 5000 and 6000 litre models promise unrivalled spraying control over almost any terrain.
The Pegasus proven chassis design has been engineered to deliver long-term structural integrity and stability to ensure a smooth ride. This partners with exceptional boom stability to ensure optimal spray coverage in a range of conditions.
Proudly built in our manufacturing facility in South Australia, Pegasus sprayers are as highly durable as they are easy to operate with one master panel for all liquid functions
READY TO SPRAY
Get going faster and keep going with boom prime/recirculation/flush now available as an option on Pegasus 5000 and 6000 trailed sprayers.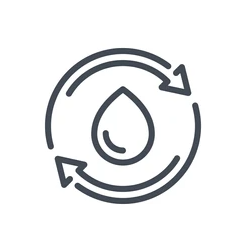 Prime
Prime each nozzle within minutes, ensuring the tank mix is correct from the very first headland spray.
Recirculate
Liquid is recirculated from the boom back to the tank – reducing product settling and minimising waste.
Flush
Liquid is flushed back through the boom section valves, returning product to the tank safely and efficiently.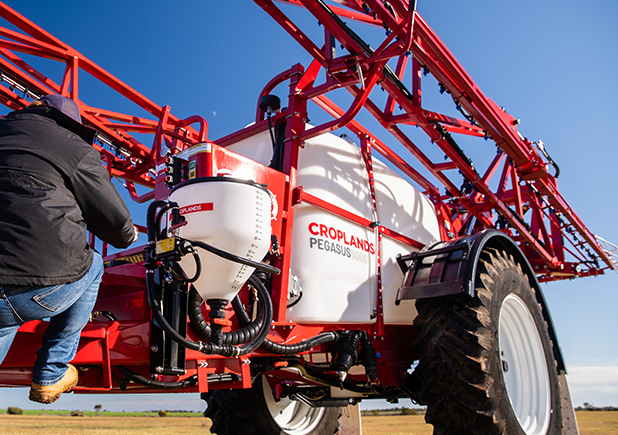 TANKS
Both 6000 and 5000-litre tanks are low profile and easy to clean, featuring tank rinsing facility, large 50mm drain outlet and deep, full draining sump. Chemical suspension is optimised through dual-Venturi agitation, and screen filters at the fill point keeps particles from entering the tank.
These models also feature 5 section motorised valves (optional upgrade to 7 section) and are ISOBUS compatible.
Also compatible with:
Trimble
Topcon
Greenstar
Optional Trimble ready with Field IQ module available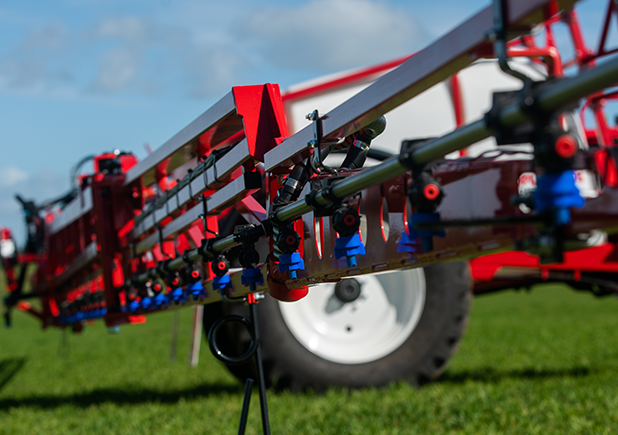 BOOMS
Ranging from 24 to 36 metres, Pegasus boom options provide a smooth ride across any terrain. Shock from sudden wheel track movements is absorbed thanks to the parallelogram boom lift, hydraulic accumulator suspension and pendulum-type, fully floating self-leveller. Wing-lift available as an option.
Potential contact damage is minimised through the combination of adjustable boom-end breakaways, boom skids, fence-line protectors and protected nozzles.
Other features include:
Four-ram hydraulic side-fold system which locks for safety in transport
Flushing taps at end of each boom section for excellent boom flushing
Chemical resistant finish to prevent corrosion
Non-drip nozzle bodies with drift reducing low pressure AirMix® air-induction nozzles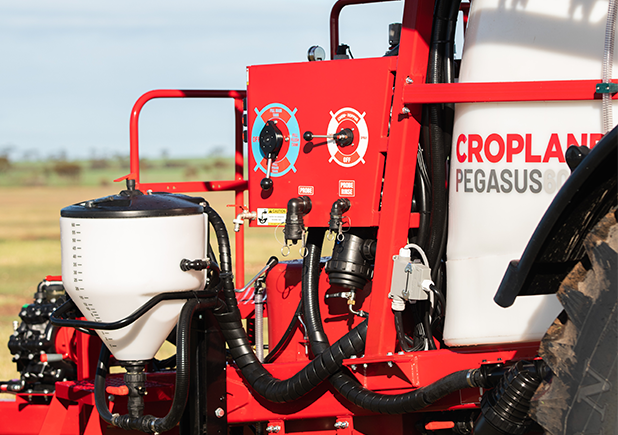 AUTOMATIC SPRAY RATE CONTROL
Bravo 180S fully automatic spray rate controller fitted standard
Electric motorised valves provide excellent reliability and are easily accessible for servicing
ADDITIONAL FEATURES
Positive displacement, oil bath, chemical resistant diaphragm pump (180 L/min) handling a system pressure of up to 10 bar
470 litre flushing tank to rinse in the field
20 litre fresh water hand wash tank fitted for operator safety and convenience
Integrated 60 litre chemical induction hopper (Chem-e-flush) for easy chemical mixing and transfer to the main tank
Central control panel for exceptionally easy operation of all liquid functions – filling, mixing, flushing and spraying set up
In-line boom filters fitted standard
Polyethylene mudguards and mudflaps to cut down dust or mud splash
OPTIONAL EXTRAS
Fully automatic MT3405 spray rate controller with motorised valves for additional operator information and more boom sections if required
Trimble Ready with Field IQ module
Integrated GPS options easily adapted to most control systems for precise application
Left/right hydraulic wing-lift kit for lifting each boom wing by approximately 15° to overcome in-field obstacles, undulating ground or contour banks
3m adjustable axle with airbag suspension included
Up to 7 section boom control to minimise over-spraying in corners and triangular areas
BOOM PRIME/RECIRCULATION
Optional boom prime/recirculation/flush system improves efficiency in boom cleaning and decontamination and eliminates the need to prime booms on the fenceline.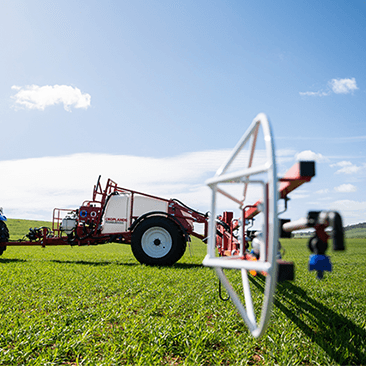 learn more
Check out the Croplands Broadacre Spray Range for more information.