PEGASUS 8000
TRAILED SPRAYER
The Croplands Pegasus range is renowned for exceptional productivity and effortless operation. This hallmark performance is delivered to large-scale farming through the high capacity 8000 litre model.
Experience a smooth ride and solid feel behind the tractor with the virtually unbreakable, super heavy duty chassis.

The Pegasus 8000's self levelling boom, coupled with the hydraulic accumulator suspension and an air-ride axle system ensures exceptional boom stability for precise droplet application

And with a tank that is designed to sit deeper into the chassis to lower the centre of gravity, the Pegasus 8000 promises a smooth and stable ride across varied terrains.
READY TO SPRAY
Get going faster and keep going with boom prime/recirculation/flush now standard on Pegasus 8000.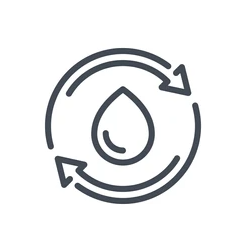 Prime
Prime each nozzle within minutes, ensuring the tank mix is correct from the very first headland spray.
Recirculate
Liquid is recirculated from the boom back to the tank – reducing product settling and minimising waste.
Flush
Liquid is flushed back through the boom section valves, returning product to the tank safely and efficiently.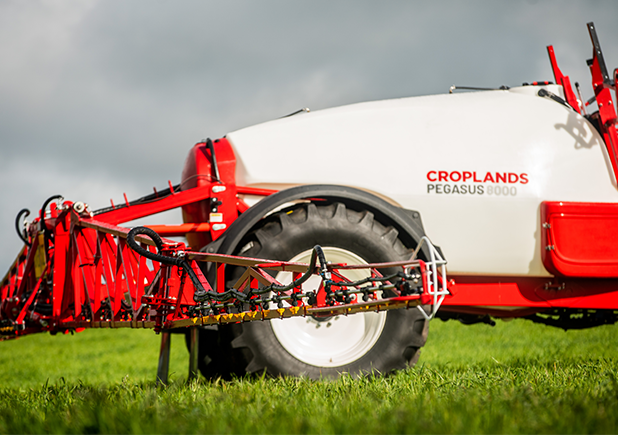 8000 LITRE TANK
Large capacity minimises re-fill down time and increases field efficiency
Deep sump empties completely for drain out. 50mm drain outlet
Large Venturi agitators front and rear, plus sparge-tube recirculation ensure excellent agitation and chemical suspension
Twin rinsing nozzles for complete tank clean out
700 litre fresh water flushing and rinsing tank
UV and chemical resistant to increase longevity
Hinged lid with filling strainer and top/bottom fill point with large screen filter
ISOBUS compatible, also compatible with: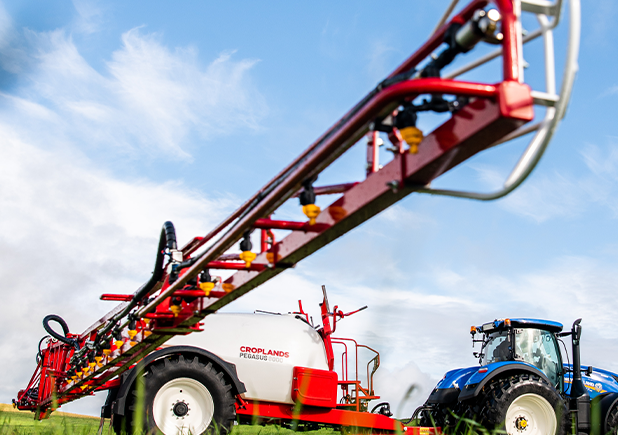 BOOMS
Choose from 33 and 36 metre booms with unrivalled boom ride and stability.
Designed for Australian conditions, the steel construction has a proven track record
2 metre plus parallelogram lift with hydraulic accumulator suspension assists boom ride and adds to increased spraying precision and longevity
Pendulum-type fully floating self‑levelling centre section with yaw dampening provides unrivalled boom stability
A boom-end breakaway system, fenceline protectors, sprung boom skids and protected nozzles minimise potential contact damage
Independent outer wing fold enables operation with the boom half folded if required in tight spaces
Stainless steel boom lines to avoid contamination build-up
Flushing taps at end of sections for complete boom clean out
Chemical and corrosion resistant finish to avoid corrosion issues
Four-ram hydraulic side-fold system which locks for safety in transport
Non-drip nozzle bodies with drift reducing low pressure AirMix® air-induction nozzles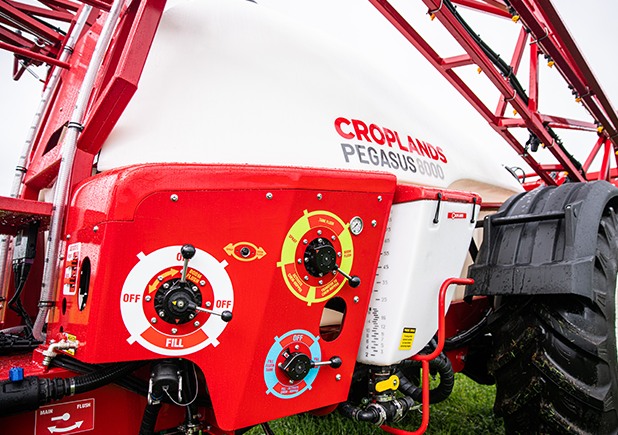 proven
CHASSIS

design
A heavy duty, fully welded and epoxy‑powder coated chassis with 6mm thick 350-grade high-tensile c-channel beams, welded into box sections
Load sensing airbag axle suspension – adjustable to 3m width – for excellent shock absorption and stability to ensure longer life of the sprayer and an exceptionally smooth ride
710/70R x 42" single wheels provide a huge footprint to minimise compaction and further enhance ride quality
Heavy duty drawbar with an innovative Air Ride Drawbar System minimises shock transmission
Fully supported polyethylene mudguards and mudflaps to cut down dust or mud-splash
liquid control
BA7000 fully automatic spray rate controller, fitted standard, provides full screen monitoring of all key spray functions and is GPS compatible with most systems
Electric motorised boom valves and ARAG Wolf flowmeter
5 section liquid control standard, up to 9 sections available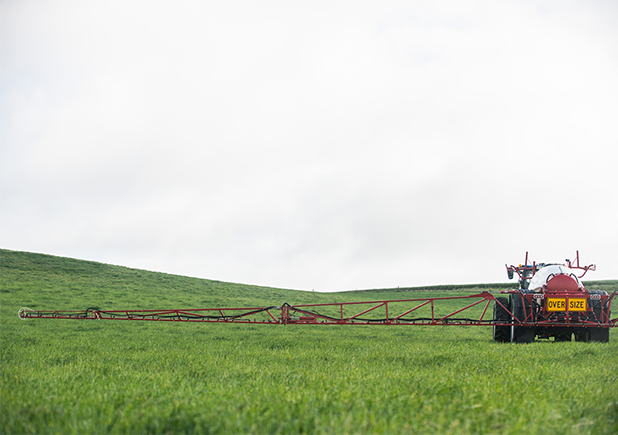 additional standard features
AR (Annovi Reverberi) positive displacement, oil bath, chemical resistant diaphragm pump (250 L/min) handling a system pressure of up to 10 bar
Unique integrated rinsing system utilises the 700 litre fresh water flush tank, with no return to main product tank, for boom line rinsing in the field
35 litre fresh water hand wash tank fitted for operator safety and convenience
Integrated 100 litre chemical induction hopper (Chem-e-flush) for easy chemical mixing and transfer to the main tank
Central control panel for exceptionally easy operation of all liquid functions – filling, mixing, flushing and spraying set up
optional extras
7–9 section motorised valves to increase flexibility of application and make auto-boom shut off a breeze
Fully integrated GPS options available
Optional left/right hydraulic wing-lift kit for lifting each boom wing by approximately 15% to overcome obstacles, working in undulating ground or in contours
620/70R x 42″ or 520/85R x 46″ tyre
boom prime/recirculation
Optional boom prime/recirculation system improves efficiency in boom cleaning and decontamination and eliminates the need to prime booms on the fenceline.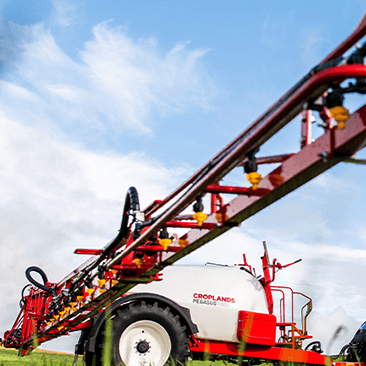 learn more
Check out the Croplands Broadacre Spray Range for more information.
ENQUIRE NOW
| | | |
| --- | --- | --- |
| Pegasus 8000 | 8000L broadacre trailing sprayer | ENQUIRE |