PINTO 4000
TRAILED SPRAYER
Modern styling and robust design combine to deliver, unmatched performance season after season.
Boasting a high-quality 4000-litre polyethlene tank supported by a highly durable chassis and generous 160 L/min diaphragm pump for superior agitation and water rate flexibility, the Pinto 4000 represents the Croplands design philosophy: robust design, generous dimensions and exceptional functionality.
Proudly built in our manufacturing facility in South Australia, Pinto sprayers are as highly durable as they are easy to operate with one master panel for all liquid functions.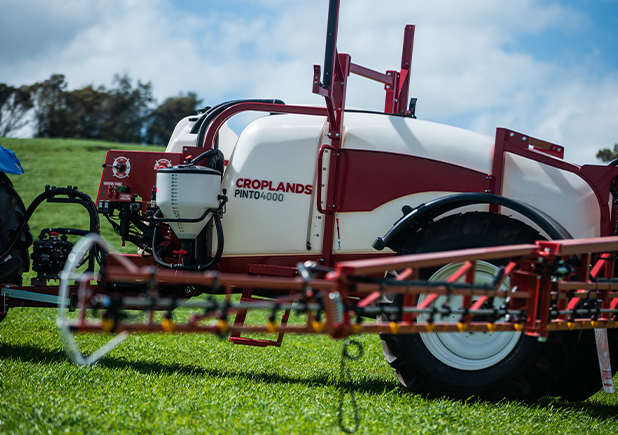 TANK
High-quality 4000-litre calibrated polyethylene tank designed to ensure clean flushing and even weight distribution.
CHASSIS
Designed for maximum durability with a rugged fabricated chassis and hitch and heavy-duty single axle with 18.4 x 30" single wheel tyres.
Height adjustable hitch and swivel eye drawbar optimise towing balance and standard mudguards and mudflaps cut down dust and mud-splash.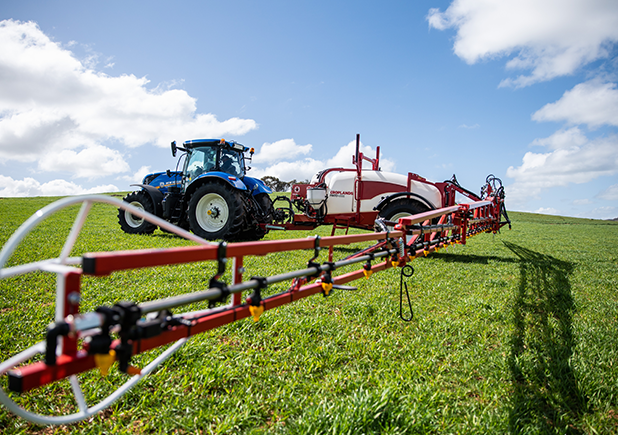 BOOMS
Epoxy-powder coated booms in 18, 21 and 24 metres are fully hydraulic including hydraulic fold, hydraulic accumulator boom suspension system and hydraulic parallelogram boom lift as well as fully adjustable boom breakaways with 90° self returning boom ends, three-section boom control and a self-levelling device, which improves application precision.
Fittied with the SprayWise-endorsed AirMix® air-induction nozzles, these non-drip, quick-release nozzle bodies deliver excellent spray coverage with reduced drift potential.
In addition to being ISOBUS compatible, the Croplands Pinto 3000 is also compatible with Trimble, Topcon, Greenstar. Optional Trimble Ready with Field IQ module available for order.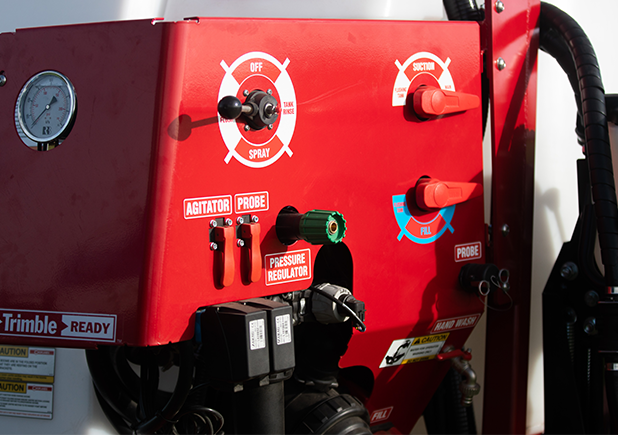 ELECTRIC CONTROLS
In-cab electric controller with master switch, 3-way boom switches and pressure adjustment. Electric motorised valves are easily accessible for servicing.
ADDITIONAL FEATURES
AR160 PTO driven diaphragm pump (160 L/min)
275 litre flushing tank to rinse in the field
15 litre fresh water hand wash tank fitted
Integrated chemical suction probe fitted
Integrated GPS options easily adapted to most control systems for precise application
OPTIONAL EXTRAS
18.4 x 38" wheels for greater crop clearance
11.2 x 42" wheels for high clearance applications (72" row width)
Bravo 180S or MT3405 spray rate controller with motorised valves
Left/right hydraulic wing-lift kit for lifting each boom wing by approximately 15% to overcome obstacles
60 litre chemical induction hopper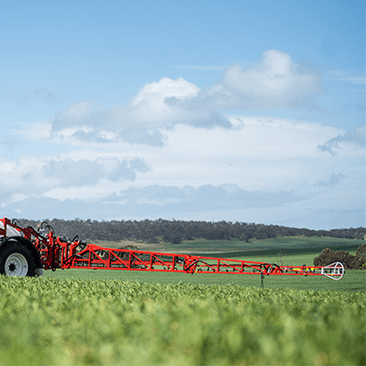 learn more
Check out the Croplands Broadacre Spray Range for more information.
ENQUIRE NOW
| | | |
| --- | --- | --- |
| Pinto 4000 | 4000L broadacre trailing sprayer | ENQUIRE |