WEED-IT 7000
WEED-IT TRAILED SPRAYER
The first fully integrated twin-tank, twin-line sprayer.
The WEED-IT 7000 takes weed control to the next level. Named after its 7000-litre main tank, it also includes an 800-litre flushing tank and 1500-litre hot tank, the latter of which holds high-concentration chemicals for spot spraying. This helps in the management of hard-to-kill weeds and inhibits herbicide resistance.
The WEED-IT 7000 has been engineered in Australia with Australia's tough conditions in mind. From improved chassis and suspension system to the development of the contour-following boom, which is specifically designed so sensors target even the smallest weeds, every element has been made for high durability and productivity.
To reduce your chemical use, minimise weed seed banks while retaining soil moisture, look no further.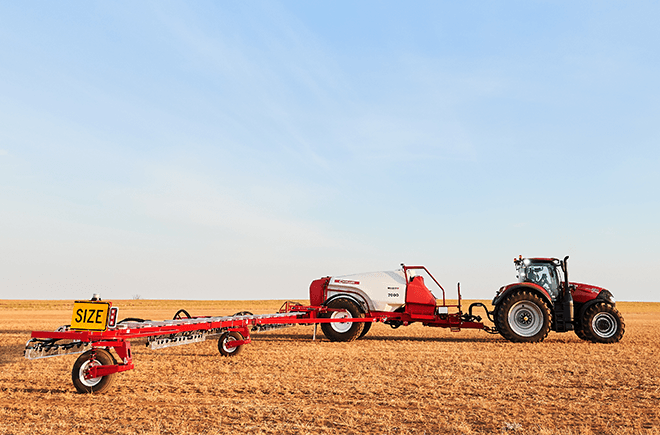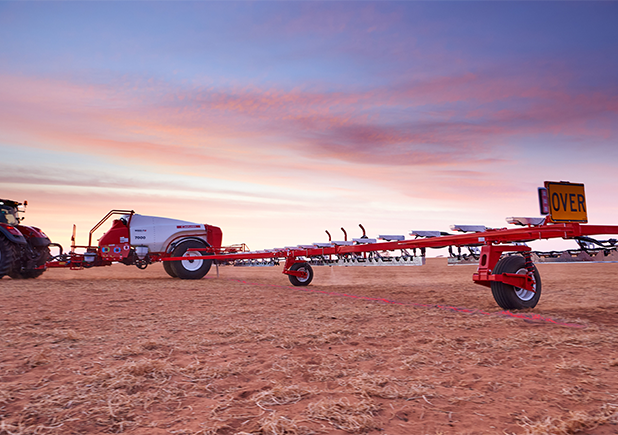 7000 Litre Main tank
7000-litre UV and chemical resistant polyethylene tank, fitted with hinged lid and controlled overflow plumbing, filling strainer, top fill and fully draining sump. Comes standard with dual agitators, direct chemical induction, tank rinsing facility and drain.
1500 Litre hot tank
1500-litre polyehtylene tank, fitted with dual lids and controlled overflow plumbing. Holds high concentration chemicals for spot spraying.
800 Litre flush tank
800 litre polyethylene tank, fitted with lid and controlled overflow plumbing. Bottom fill and fully draining sump.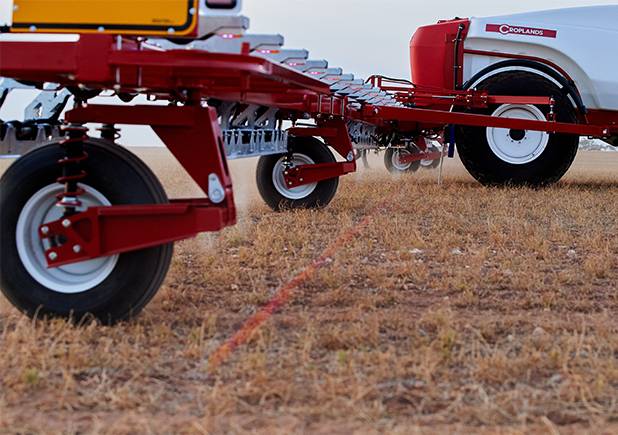 chassis
Heavy duty fabricated chassis with easy access walk over platform designed for maximum accessibility and safety
Easy access to main tank lid
Fitted standard with wide, low dust 24.5 – 32 tyres and wheels
Standard axle is fixed track 3m axle with airbag suspension and automatic ride height valve
Mudguards and mudflaps are standard
Airbag suspension, heavy duty adjustable drawbar hitch with swivel cast eye and jack stand
Optional hydraulic jack version
Integral WEEDit boom connection points
20 litre chemical drum rack
Optional LED Lighting for fill station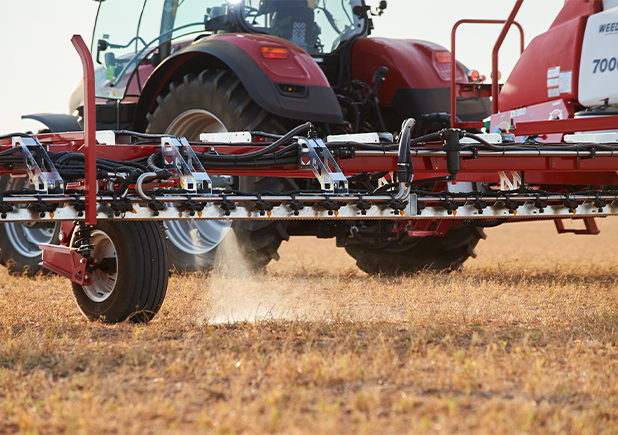 CHemical handling
60 litre Chem-e-Flush 60 hopper with drop down leg for the Main tank
Fixed Arag Niagra 30 litre hopper for the Hot tank
Integrated suction probes (for each tank) transports chemical directly into the tank, without putting neat chemical through the pump
dual line plumbing
Main tank/blanket line is a hydraulically driven Hypro centrifugal pump. This traditional 5 section line can be used both with and without the WEED-IT line. The blanket line only draws chemical from the main tank, but can be shut off when not required. The blanket line has traditional 110° nozzles at 50cm spacings.
Hot tank/WEED-IT line is a Hypro centrifugal pump with LifeGuard seals. The WEED-IT line targets actively growing weeds and can be used on its own or in conjunction with the blanket line. The WEED-IT line can draw chemical from either tank depending on the application and has 40° nozzles at 25cm spacings.
Fence line nozzles are fitted to both the blanket line and WEED-IT spot spraying line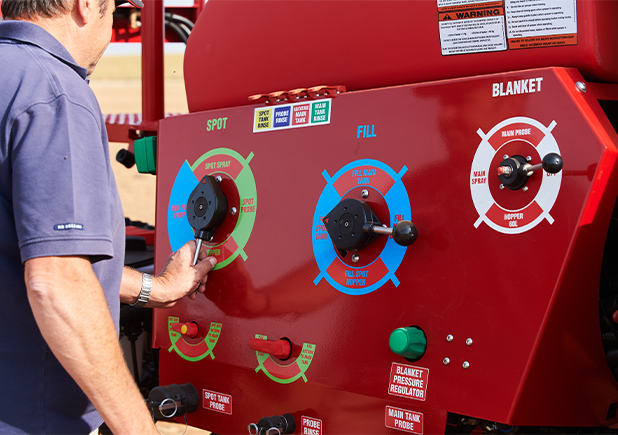 fill and filtration
2" Self filling pump delivers water to the control panel Rotary valve filling main tank, hot tank or flush tank. Optional: Self filling 3" system . Multiple filtration points:
Basket 18 mesh (main tank only)
2 x Filling 32 mesh
2 x Pressure 80 mesh
Multiple 100 mesh boom in-line filters, fitted to the blanket line
controls
VISIO tank level display – a small in cab screen accurately displays the hot tank volume. Easy to use main control panel suitably positioned between both chemical hoppers. Hinged for easy access to plumbing.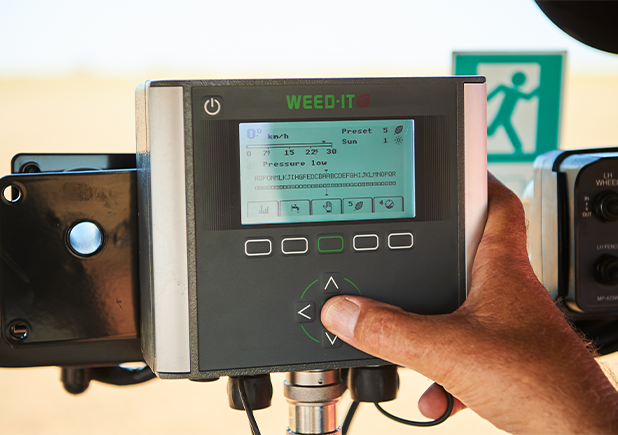 in-cab monitor & controller
WEED-IT's easy to use intelligent display provides constant monitoring of solenoids and sensor operations, with malfunctions or errors reported on screen – including warnings for low pressure, sensor faults and voltage.
The smart design allows for easy fault identifications. Response time is automated to ensure the nozzle hits the target.
Turn compensation is a standard feature.
LEARN MORE
Check out the Croplands WEED-IT Buyers Guide for more information.
ENQUIRE NOW
| | | |
| --- | --- | --- |
| Croplands WEED-IT 7000 | 7000L WEED-IT equipped trailing sprayer | ENQUIRE |