Twin RoGators the centrepiece of year-round spraying business
31 August 2021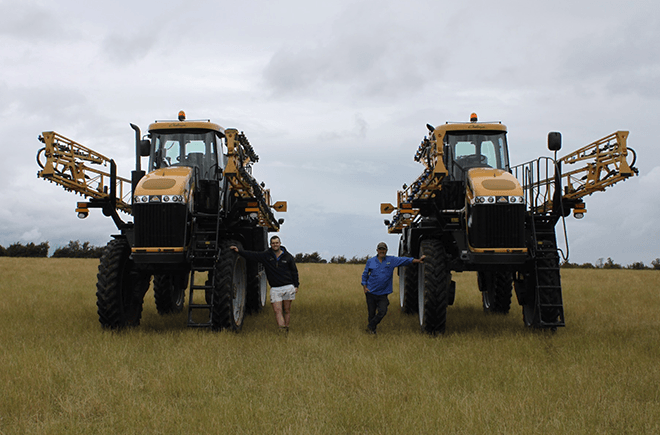 When a Tasmanian agricultural contracting business made the switch to RoGator sprayers, they were so impressed they added a second one.
The Scott family runs KAAS Spraying and Agriculture from their base in Hagley, northern Tasmania. They provide a mix of services to cropping and livestock farmers.
Andrew Scott started the contracting operation 10 years ago. Now his son Angus manages it, while Andrew looks after the family's firewood business.
KAAS Spraying and Agriculture purchased its first RoGator RG700B in September 2020, and added a second one in December.
The self-propelled RoGator RG700Bs have fitted in nicely with the company's busy spraying schedule.
They are the centrepiece of our business.

Angus Scott, KAAS Spraying and Agriculture
"We spray anything from vegetables, onions, potatoes, cereals, broadacre crops and high value small seeds such as carrot seeds. Pasture clean-ups keep us busy over the winter," Angus says.
"The RoGators are quite simple machines. They have got everything we need, and they have some creature comforts, which makes using them a bit nicer," Angus says.
"It is easier to get spare parts when both our sprayers are the same, and they are both under warranty," Angus says.
"We are very happy with the way they are going. We have had other sprayers, but we have just found with the RoGators, we don't have to wait weeks or months to get spare parts. Servicing is the main thing, which has been really good."
He says KAAS Spraying and Agriculture's previous sprayers were rear-wheel steer and ran into problems. The new front-wheel steer, four-wheel-drive RoGators have had no major issues.
"They are the centrepiece of our business. We use them all year round, in spring, summer and autumn, and even while it goes a bit quiet in the winter. We need them to be running smoothly all the time."
The sprayers typically do about 1000 hours each over a 12 month period.
"We aim to do spray about 10,000 hectares a year when things are going well," Angus says.
Standard specification on the RoGator RG700B is a 2700 litre tanks, but the Scotts have upgraded to 3200 litre tanks to give them a bit more capacity.
While the RG700B is the smaller model in the RoGator line-up, Angus says the steel boom makes them quite a hardy and straight forward machine.
"For a contractor, it just makes sense."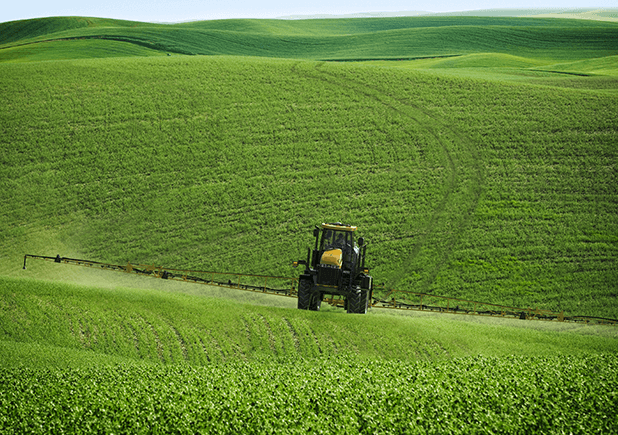 RoGators are all-wheel drive and designed with the engine, hydrostatic drive and gearboxes linked together. This ensures the system runs smoothly and delivers up to 20 percent more efficiency than other systems.
All-wheel drive and traction control allow RoGators to work in wetter or hilly areas without getting stuck and ensure an extra level of safety.
Speed sensors at each wheel motor ensure all four wheels turn at the same speed to reduce the risk of wheels spinning or slippage.
"If a tyre slips, the power goes to the other wheels so you don't lose control," Angus says.
RoGator RG700Bs have adjustable track width. Angus generally works with a track width of 1.8m to suit the crops he sprays.
The 24m folding boom provides flexibility, which suits KAAS Spraying and Agriculture because the paddocks they work in vary from 3-6 ha up to 40-80 ha.
"It allows the RoGators to fit through tight gates and tree lines. They also have good crop clearance.
"Even in the higher crops, you never hit the plants with the belly of the RoGator as they have a lot higher clearance than any other machines we have had."
Priming the booms with product and emptying them are both "quite straight forward".
"You can rinse them out in 10 to 15 minutes and go into another chemical group which is a good time saving."
Angus has also been impressed with his RoGators' fuel efficiency. They average around 12 litres per hour "which is a lot better than similar sprayers on the market" and they have an impressive road speed of 50 kph.
The Scotts bought their RoGators from Nutrien Ag Solutions in Launceston with back up from Croplands in Toowoomba, Queensland.
"The mechanic came down from the head office when we first purchased them and we can get help from both offices, which is always good," Angus says.
"They have both got a two- year warranty, which a lot of other brands don't have. That is quite handy."
From his experience so far, Angus has no hesitation in recommending any of the RoGator sprayer range to other farmers and contractors.