Dual purpose RoGator gives contractor options
20 December 2021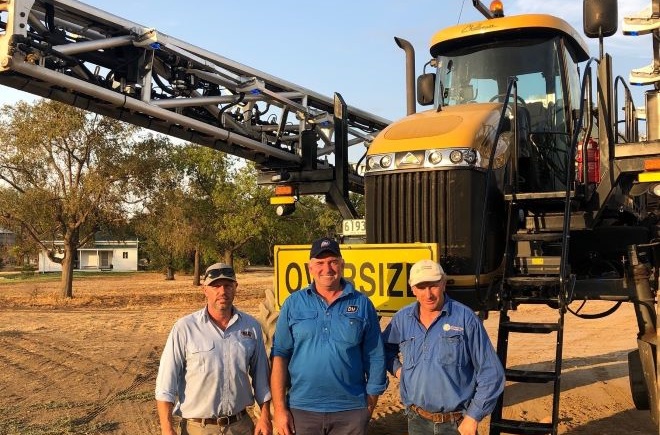 A RoGator RG700B has proven to be the ideal ground spraying tool for New South Wales contractor Bob Sipple.
Bob purchased his second self-propelled RoGator RG700B sprayer in July 2021, to replace his previous RoGator RG700, which he had for five years.
"The two RoGators are both essentially the same. We had a good run overall with the first RoGator 700. It was a good machine.
"We probably do 1200 to 1500 hours a year on it. It all depends on the season. In the summertime we do night work if we get behind, so we do some big days."
Bob has been operating in the Liverpool Plains region for 25 years from his base at Quirindi in northern New South Wales.
Liverpool Plains Groundspray operates on 15 to 20 properties all year round mostly doing broadacre spraying plus some dryland cotton spraying.
"Over Spring, growers are sowing sorghum, cotton, beans and sunflowers. This year there has been a reasonable amount of rain, so there will be quite a bit of cotton over the summer.
"Then we do Winter wheat, barley and chick peas. Most people will plant half the farm and leave some of the farm fallow. We usually get good rainfall all year, so people can sow summer and winter crops, which keeps us busy."
dual purpose machine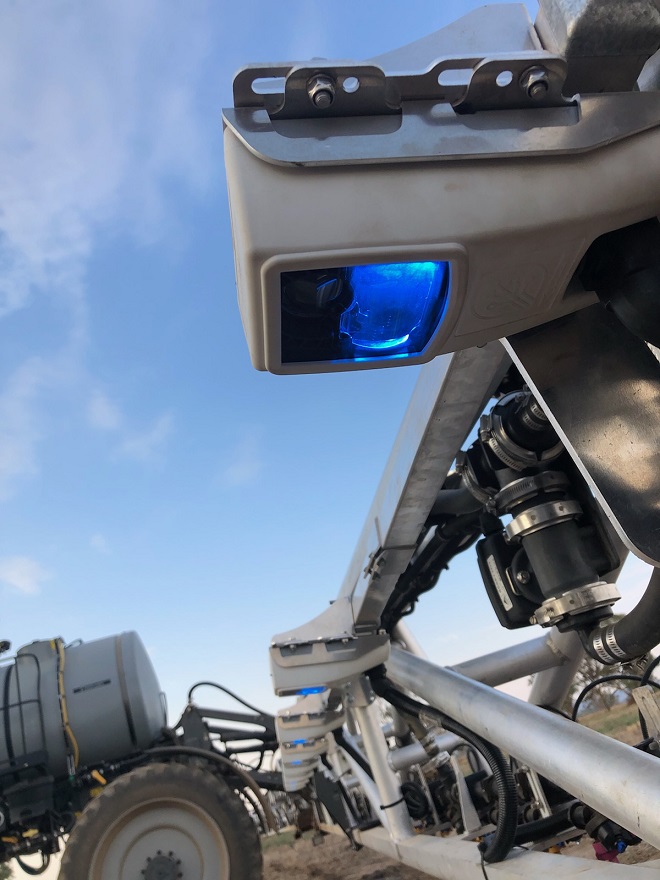 Bob's new RoGator RG700B has a 120-ft boom and a dual-purpose spray line with WEED-IT Quadro sensors that allow him to do both broadacre spraying and spot spraying.
The boom is fitted with Arag 2×2 nozzle bodies, each of which has two nozzles for spot spraying and two for broadacre spraying.
Local Croplands agent, NFS Ag in Gunnedah, sold Bob his Rogator RG700B and installed its dual-purpose spray system.
Along with the option to do spot spraying or full boom spraying, the RoGator RG700B can work on 3m-4m wheel spacing. This gives Liverpool Plains Groundspray the flexibility to operate in the different terrains found in northern New South Wales.
"We have a mix of sloping country with contours and flat plain and sub plain country, so there is plenty of variety," Bob says.
He says the RoGator 700 sprayers are a good size and lightweight compared to other sprayings, so they do not leave big wheel tracks.
"Sprayers can be quite heavy these days. The main thing with the RoGator is that it is light – we don't want big wheel tracks everywhere."
Bob likes the 120-foot aluminium boom, which is sturdy and provides good coverage so he can get through a large area of work in a day.
The sensors that operate with WEED-IT Quadro spot spraying technology ensure precision spraying by detecting chlorophyll in the leaves of actively growing weeds in fallow fields. Spray nozzles are then activated via a 50Hz 6-volt PWM-capable solenoid releasing a burst of spray directly onto the weed. This advanced mode of detection enables faster travel speeds and targets even the smallest of weeds.
They are really good. We pick up quite a bit of spot spray work as there is quite a bit of demand from growers

Bob Sipple, Liverpool Plains Groundspray
Inside the cab, the RoGator has all the standard features including Trimble autosteer, and air bags for safety.
The RoGator can travel on the open road at 50 kph, so Bob can travel between jobs efficiently.
LOCAL SUPPORT
Bob has been dealing with NFS Ag for a number of years and buys all of his equipment from them.
"They are only 80 km away, so they are pretty handy. They always come over when we have a breakdown and are here when we need them.
"Our last RoGator had minimal down time. There were some little things, but as a rule it just kept going."
Bob has no hesitation recommending RoGator sprayers and WEED-IT technology to other contractors and farmers.