WEED-IT better for environment and bottom-line says NSW farmer
30 November 2021
WEED-IT is an important tool for controlling difficult weeds such as ryegrass, sow thistle and fleabane.
Brendon Schultz is a broadacre farmer on the Liverpool Plains in NSW in partnership with his wife Amy and father-in-law Kevin Perkins. They grow wheat, barley and sorghum.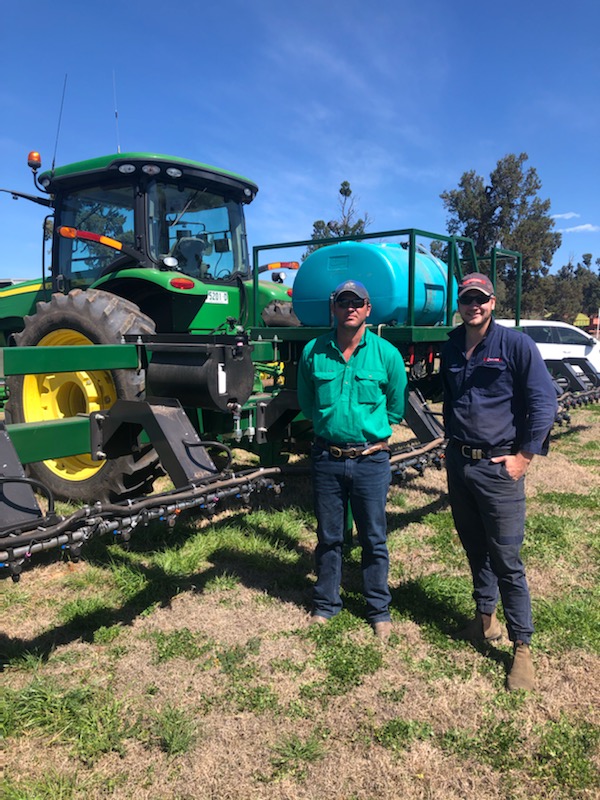 They bought their first WEED-IT in January 2020, when drought pushed them into the purchase.
"Stressed weeds are harder to kill," Brendon says.
WEED-IT's core feature is a series of blue LED sensors along the boom of the sprayer, which detect weeds and then sprays them – and only them. It uses a fraction of the spray compared to a traditional boom sprayer.
The saving in spray is huge. Brendon can use higher rates of more effective (and more expensive) chemicals, and still save money because he uses so much less.
We are getting coverage rates between five and eight percent of the paddock. It allows us to use higher rates that would have been cost prohibitive and we still use far less herbicide.

Brendon Schultz
"It also allowed us to use other chemistries that also would have been cost prohibitive."
Brendon saves time with the WEED-IT because he sprays less often.
"We are not getting the escapes that didn't get killed in the first application."
Brendon bought the WEED-IT system of controller, sensors, nozzle bodies and solenoids, and addedthem to his existing sprayer. The boom is 12m and it is used with a 600-litre tank.
WEED-IT is a flexible system. It can be bought as an add-on, as Brendon has done, or it can be bought as a complete spray unit, and it can do both spot spraying and broadacre applications.
Some versions of WEED-IT can even do both at the same time. For example the Croplands WEED-IT trailed sprayers are complete spray units with two tanks and two regulating systems. These sprayers can apply two different sprays at different rates at the same time, one as broadacre and one as a spot sprayer.
Brendon uses his WEED-IT solely as a spot sprayer and runs a larger sprayer with a 34m boom for broadacre spraying.
WEED-IT uses blue LEDs to detect the chlorophyll in plants as blue is more sensitive than red. The blue lights can be used at night, which Brendon frequently does.
"The sensitivity is adjustable. Typically we run in the middle of the range. We know if it is misfiring if a lot of nozzles are going off, but there are not many weeds. That happens if the ground is very wet or in certain types of stubble. Then we just decrease the sensitivity."
The spray line is 700 mm above the ground, clear of stubble, and the sensors are 1100 mm above the ground to prevent shading of weeds. Each sensor is a metre apart and controls four nozzles.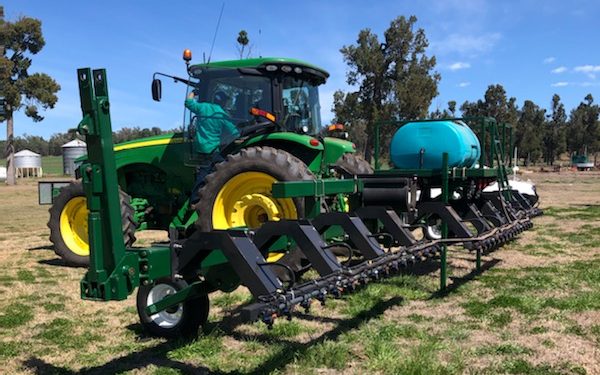 Controlling the WEED-IT is done via its own monitor, which Brendon says is easy to use.
Added to it is GPS control to prevent overlaps or missing sections.
Brendon's dealer is NFS Ag Machinery in Gunnedah.
He says they have provided good service and can supply everything he needs.
"We had a few small issues with software and they have been quick to come out and get the machinery running again."
Before WEED-IT, Brendon was spraying herbicides more frequently.
"Now we load up the tank with the brew and we know it is going to kill those weeds.
"The results are very good. We get it done first time in a manner that is economical.
Environmentally and economically it's a long way in front of where we were."