Quantum Towers protect valuable crop in NSW
April 2023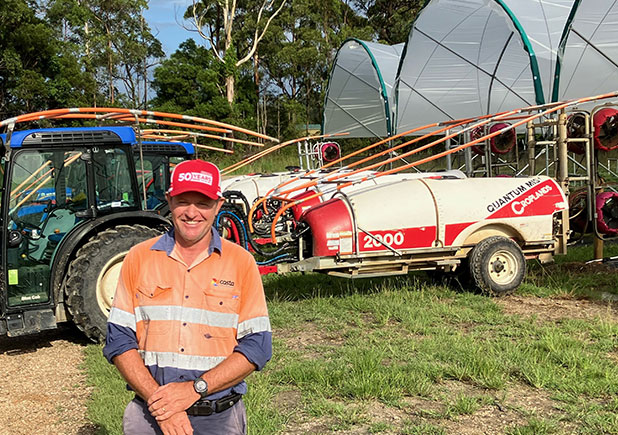 Costa Berries has been growing blueberries in Corindi, New South Wales for 35 years.
Lachlan Hoskin is the Tractor Operations Co-ordinator at Costa Berries' 330-ha Corindi farm. Costa Berries is part of the Costa Group, Australia's biggest producer of fruit and vegetables.
Costa grows a variety of berries, including blackberries and raspberries, but Lachlan specialises in blueberries.
"When they first started, growing them here, there was no blueberry industry in Australia. They developed the industry."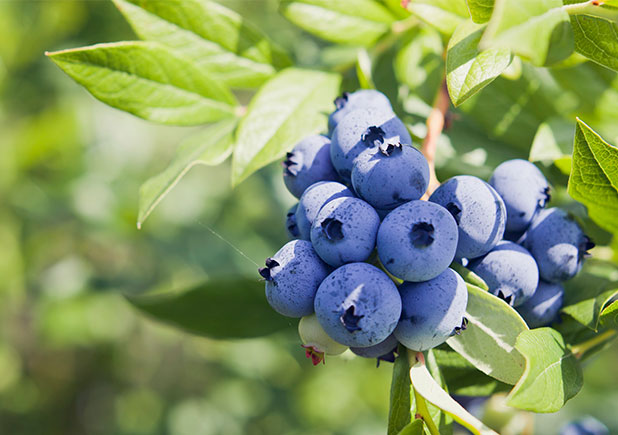 This pioneering Corindi farm began using Croplands sprayers twenty years ago. Initially they were mixed in with other brands, but over the last ten years they have shifted to using Croplands sprayers exclusively.
Blueberries grow in rows 3m apart. The plants are on a 10-to-14 day rotation for cover spray.
Four Croplands Quantum Tower trailed sprayers work five nights a week, protecting the crop.
Behind the tank is a tower with three QM-500 fans on each side. They cover both sides of the row and give full coverage of the crop, from top to bottom.
The Quantum has six separate heads, rather than one big one. It creates a vortex that gives better coverage without the force of air, so we don't have to blast the plants with so much air.

Lachlan Hoskin, Costa Berries, Corindi NSW
Lachlan says the blueberries are pruned to a height 1.8m, but the Quantum can be adjusted to cover up to 5m. (Another model, the Quantum Ultra Tower, has eight fans for taller trees.)
"In one night we spray blueberry bushes of different ages and stages. We try to stick with one setting, but if they are really young we can loosen a couple of bolts and adjust the angle of the fan."
The advantages of the Quantum tower are coverage and fuel efficiency.
"The Quantum has six separate heads, rather than one big one. It creates a vortex that gives better coverage without the force of air, so we don't have to blast the plants with so much air," Lachlan says.
The Quantum "has a huge air flow" of 109,000m3 per hour. Lachlan does not need that much flow and can turn it down from within the cab.
"We adjust according to the different types of crops. There are different sub-variants of blueberries. Some are in the ground and are some in tunnels. We adjust the fan speed to suit."
The litres/ha spray rate is adjustable within the cab, and either side can be switched off for the end row.
Targeted coverage
Each fan has eight ceramic, cone-jet nozzles. They can be optioned at 60 or 80 degrees. "We did coverage tests and found 80-degrees worked best for our crops."
Lachlan says they change the nozzles every season, "whether they need it or not".
It takes a bit of effort to block a Quantum Tower. "It has high and low pressure filters. You can block it, but it's nothing to do with Croplands. It is the operator not mixing the chemical correctly."
The Quantums are not fussy about the type of chemical they spray.
"Granules, liquid and powder chemical – they can take it all without problems."
Lachlan is about to get a Venturi-based mixing station from Croplands to make it even easier for staff to mix the batches. It comes with a flush tank for easy clean-out.
Quantum Towers can be specified with a main polyethylene tank in four sizes: 4000 XL, 3000 XL and 2000 XL. The 2000-litre 2000 XL is also available as in Slimline version that is only 1.4m wide.
"We used to have a wider tank, but we have gone for the Slimline to minimise contact and damage to plants."
The Slimlines are longer which makes them a little less manoeuvrable, but that is easy to deal with. "We normally have two machines in one block and they do every second row."
Effortless operations
Costa Berries is a big organisation so there are many people who could be operating the sprayers.
"We do training in operation and maintenance, and they are simple to use and maintain. People get up and running quickly," Lachlan says.
The Corindi farm has 70 ha of raspberries, which are also grown in substrates within tunnel houses. Currently Lachlan uses six Croplands CropAir air-blast sprayers to protect the raspberries. The CropAir has one big fan.
These come in a variety of sizes and Corindi uses the 1500-litre trailed models.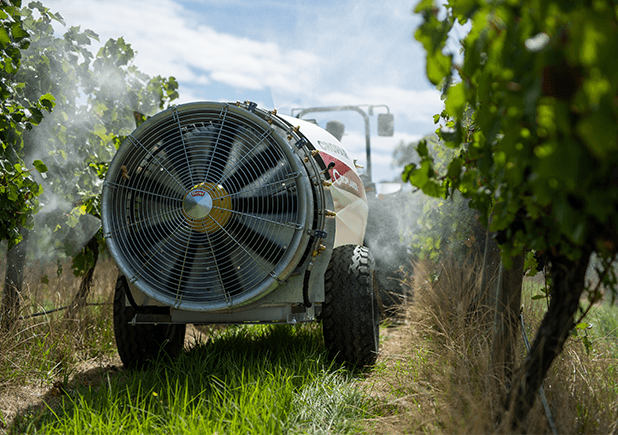 The CropAir sprayers do a good job on the raspberries, but Lachlan is looking at changing to the Quantum Towers for them as well.
There are two main reasons to swap to the Towers – better coverage with more fans and better fuel efficiency. "The CropAir needs more horsepower to turn that big fan."
Costa Berries' Croplands sales representative is Dave Farmer, who covers NSW and Tasmania.
"Dave has been servicing our farm for 20 plus years. He has been a great help over the years.
"Croplands holds parts in South Australia. They air freight them to us quickly if we ever need anything."
Learn more about Costa Berries here.