WEED-IT's performance and cost savings add up for QLD farmer
29 September 2021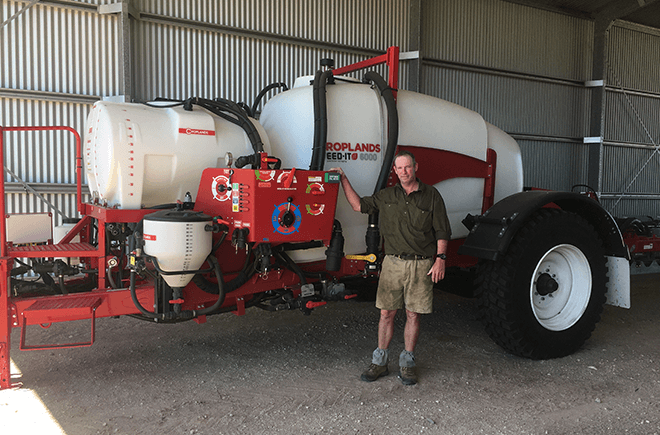 Tony and Leanne Wedel crop 3640 hectares in Capella, Queensland. The operation, Marylands Farming, produces sorghum, wheat, sunflowers, mung beans and chickpeas on undulating country 50 kilometres from Emerald.
Weed control is vital to the Wedel's operation. With weeds constantly evolving and adapting, Tony and Leanne have had to evolve their weed management practices.
Where Tony previously used a self-propelled sprayer for his entire spraying program, he now uses a Croplands WEED-IT optical spot sprayer for managing weeds in fallow paddocks across the farm.
"Sometimes I only spray five percent of the paddock. It is a big saving on chemical, and gives us better control."
WEED-IT Quadro sprayers from Croplands are multi-talented machines that give farmers and spray contractors options including two systems of operation – blanket spraying and spot spraying.
They can work alone, or the two systems can work simultaneously. For example, you can blanket spray a pre-emergent with one tank across the whole paddock, while the spot sprayer has a high concentration of a different chemical and targets only the emerged weeds at a different rate.
Tony and Leanne purchased their first Croplands WEED-IT spot sprayer in November 2017.
"We had bought the place next door and were having trouble trying to control summer grass and Feathertop Rhodes. We got the WEED-IT spot sprayer and it has controlled it all."
Because Tony only sprays the weeds and not the whole field with the WEED-IT, he uses a fraction of the spray and can afford a more concentrated chemistry with a different mode of action to ensure a good result.
"We use a lot more expensive brew that does a better job," he says.
The couple bought their latest WEED-IT sprayer in June, 2021. The Croplands WEED-IT 6000 has a 36m ground -following boom with springs and twin airbags on each wheel to give efficient boom suspension.
"Every now and then we hit a contour on the wrong angle, but there have been no issues," Tony says.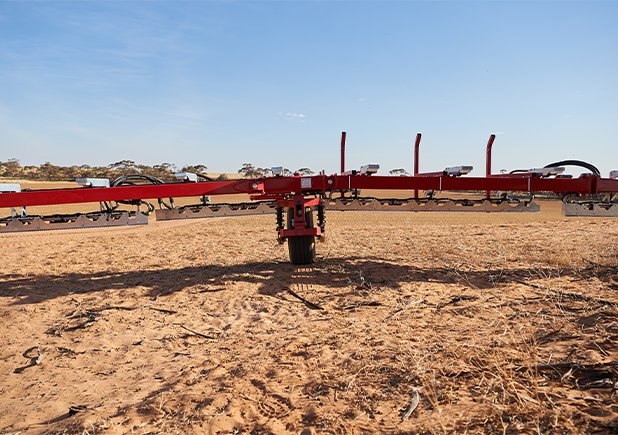 The main tank holds 6000 litres and the spot-spray tank holds 1100 litres. Tony can also use the main tank for spot spraying.
His first WEED-IT sprayer featured the first generation red LED sensors, whilst the new sprayer has the next generation Quadro sensors with blue LEDs, which are more sensitive to weeds and give greater accuracy.
Sensors are spaced 1m apart with each unit controlling four solenoids on 250mm spacing fitted with 40 degree narrow angled nozzles. Unique to the industry, this superior sensor and nozzle arrangement delivers more chemical savings than its competitors and ensures the highest dose of chemistry is delivered to the target.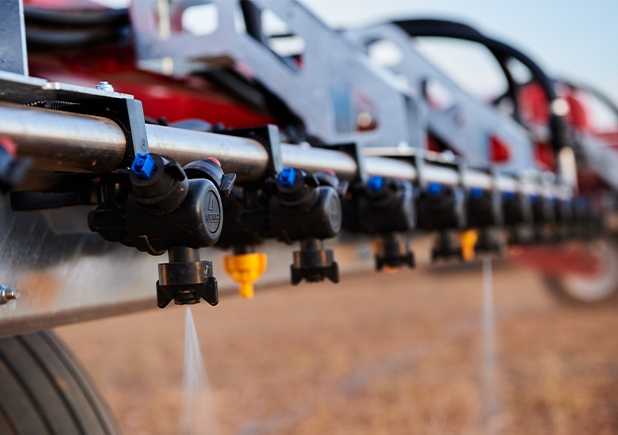 The sensitivity of the machine can be altered to suit the size and type of weed as well as light setting – for example, if you are spraying at night, so that the unit's performance is not impacted.
"Some weeds have been incredibly large but the WEED-IT still knocks them over and kills them," Tony says.
At the end of the day, he flushes out the lines using fresh water from the 470-litre rinse tank combined with some Omo washing powder. If the sprayer will be in storage for a few weeks he uses a wetting agent to stop the nozzles blocking.
It only takes a push of a button in the cab to fold the boom back into transport mode.
Tony pulls the Croplands WEED-IT 6000 with a 280-hp tractor but he says "150 hp would be plenty".
He controls the spot sprayer on its own terminal, and can run the blanket boom through the tractor's ISOBUS system.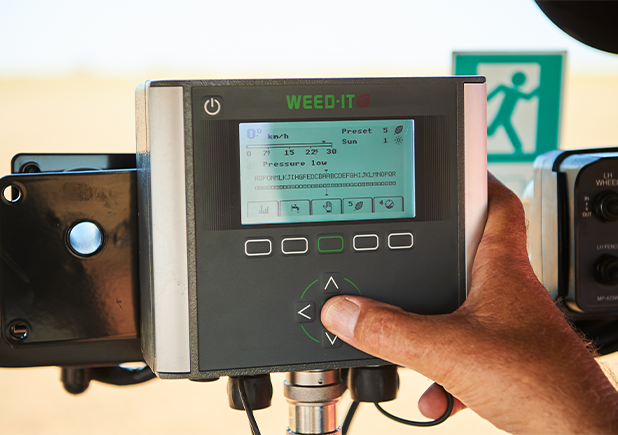 While he has the option, Tony has yet to use the blanket spray option with his new Croplands WEED-IT 6000 due to the high accuracy of the spot spray mode across his fallow ground. He says he wanted the full boomspray option mainly for resale value.
Tony also owns a self-propelled Rogator RG1300B that he uses for all in-crop work including insecticides and fungicides.
The local WEED-IT dealer is Western Mechanical in Capella.
"It is a really good local service," Tony says.
They do other repairs and maintenance for Marylands Farming and are happy to come out when required.
His Croplands WEED-IT sprayers have needed little support, but if Tony needs spare parts the dealer stocks them as well as other wearing parts.
Our first WEED-IT covered 25,900 hectares per year for four years. All we did was change the air bags and tyres, which was just normal wear and tear.

Tony Wedel
Technicians from both Western Mechanical and Croplands came out to set up that first WEED-IT and show Tony how to use it.
When he got the second one, they set it up, gave it a trial run, and will return when the spray season gets underway.
WEED-IT sprayers have been well worth the money for Tony.
"I wouldn't have bought another if it wasn't. I don't understand why more people aren't using them, especially with the price of chemicals going up and weeds getting harder to kill."