Avocados in great shape with Croplands Cropliner
May 2023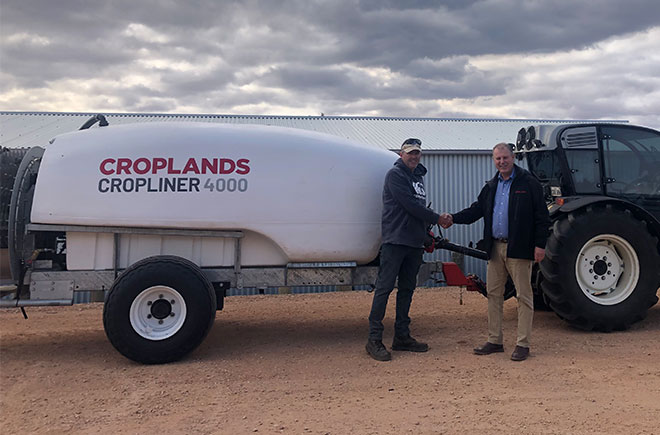 Croplands is helping a busy family business in South Australia reach its full potential.
The Loffler family's farm in Ramco is called Loffler Fresh. It has 12 ha of avocados and 3 ha of macadamia nuts.
George Loffler and his wife, Sheree, their four daughters and Sheree's father pack all their own fruit. They sell 50,000 trays of avocados a year.
Producing that much fruit is only possible with their Cropliner XL 4000 tree crop sprayer.
George says there are few pests where they farm in the Riverland region, so insecticides are not vital. What is vital is a plant growth regulator.
The timing and coverage of that spray is critical. It is worth a lot in your pocket, because if it is done right, the plant puts the energy into the fruit and not into growth of the tree. It fills out the fruit and helps hold it on the tree.

George Loffler, Loffler Fresh, Ramco SA
Growth regulators are contact sprays and avocados are tall, vigorous trees. The problem had always been to get full coverage with the regulator up into the upper canopy. George had been searching for a sprayer which could achieve this.
In mid-2022, Andrew Germein from Croplands demonstrated a Cropliner at George's neighbour's place.
"The critical height is the tops where the fruit sits. The coverage was amazing. The litmus paper was covered in dots. I said, 'I want one'."
George had considered a tower sprayer like the Croplands Quantum, but that would have involved a massive pruning programme because the trees grow across the rows. Instead their 100hp skinny, curvy tractor now eases through the trees, towing the "crop friendly" 4000-litre Cropliner sprayer.
"It follows nicely behind the tractor and it has rounded edges so doesn't damage the trees."
The Cropliner XL 4000 has a 4000-litre polyethylene tank. There are smaller models with 1500, 2000 or 3000-litre tanks.
George had first considered a 3000-litre; but the extra capacity allows him to do a 2.4-ha block with one tank.
He usually sprays between 4 and 5 kph. "I was amazed at how quickly I could get through a 6-acre block. It is more than twice as quick as the last sprayer and much more productive."
Speed matters because there are limited opportunities to spray due to the wind.
"The faster we can get through a block, then the more spraying we can do in the morning."
Filling the Cropliner is quick and easy. It can take in water through the top fill or through fast fill connections at ground level. A chemical probe inducts chemicals out of containers on the ground.
"You don't have to handle chemicals or lift anything above your head."
It has an 80-litre flushing tank and a 15-litre fresh water tank.
George likes good machinery, and expects to look after it. "I make sure it is cleaned out properly before putting it away. The flushing tank is a bonus."
Cropliners use a Fieni DSV fan. There are two fan sizes, 920 mm or 1060 mm. The Lofflers chose the bigger version.
"The 1060 fan moves the leaves, which enables it to achieve this kind of coverage. I have never seen anything like it. It can blow trees two rows across."
When he is spraying 8m trees he can see the spray shooting over the top. He has looked for tree damage, but there is none.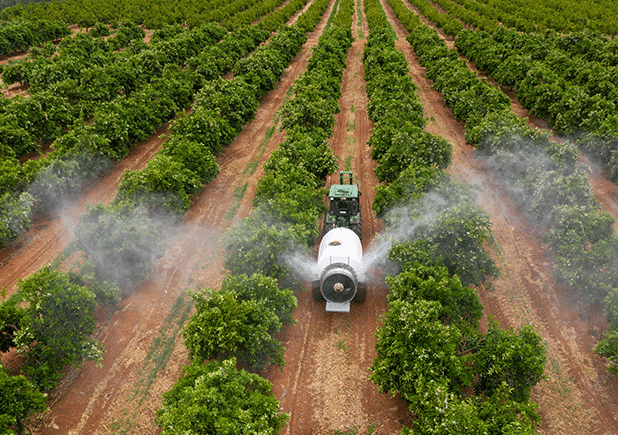 "The fan has two speed settings. We use the slower speed on the younger trees, which are 3m or 4m tall. We are getting good penetration and saving on fuel."
He also uses the slower setting on taller trees that have been well pruned.
The standard pump on a Cropliner XL 4000 is an Annovi Reverberi BHS-170. George chose to go higher spec and got the AR BHS-200 which pumps 194 litres/min at a maximum pressure of 50 bar.
It comes with two sets of nozzles – 30 stainless steel with brass cores and 30 Albuz ceramic hollow cones.
Another bonus is how easy the Cropliner is to use and control with the HV-4000 spray controller.
"Once you are in it, you follow your nose, and it is all automatic. It is simple to set up and gives plenty of options."
With his previous sprayer there were lots of calculations to make to get the correct rate. With the Cropliner, George enters the required rate and row spacing, and the controller factors in the tractor speed and keeps the rate constant.
"To change the rate from 2000 litres/ha to 1200 litres/ha for smaller trees is as simple as pushing a button."
On the last row, one side can be turned off. And when turning at the head of rows everything can be flicked off with one button.
For really small trees George turns off the top nozzles. The controller figures that out too.
"It is so much easier to turn off the top four nozzles and say, 'I want to spray at 1000 litres/ha and you work it out, Controller'."
The Lofflers only use the Cropliner three to four times a year for the growth regulator and foliar nutrient sprays.
"Even if we only used it once a year, it would pay for itself. The fruit shape is really good," George says.
Their Croplands dealer is Ronco Motors at Loxton. "They have been good through the whole process. Whenever we had any questions or problems, they have helped work everything out."
George is a very happy customer. He has sprayed his own property and that of a neighbour who was having troubles accessing the tops of his trees.
"He saw that our tops were covered with spray, even through heavy foliage. He was impressed too.
"Our Cropliner has done everything we have asked of it. It is awesome. Everything I look at tells me it is doing its job. I am impressed with the whole set-up."
If you are ever in a café in Sydney, Adelaide or Melbourne the chances are that avocado you are eating exists because of George Loffler and Croplands.